'Unruly' passenger prompts flight diversion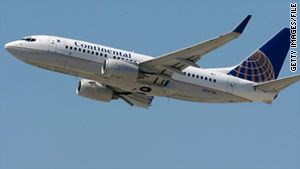 An FBI spokesman declined to identify the man detained for disrupting a Continental Airlines flight Wednesday.
STORY HIGHLIGHTS
Continental flight bound for Houston, Texas, diverted to Albuquerque, New Mexico

An "unruly" male passenger was detained by authorities in Albuquerque

No one on the flight was hurt; no suspected ties to terrorism, authorities say

Passenger was removed and flight continued on to Houston
(CNN) -- An unruly male passenger prompted a Continental Airlines flight to make an unscheduled stop in Albuquerque, New Mexico, on Wednesday.
Flight 1576 was on its way to Houston, Texas, from San Jose, California, when a passenger's disruptive behavior prompted the flight crew to divert the plane to Albuquerque International Sunport.
The passenger was detained in Albuquerque, where federal and local authorities were questioning him at the airport.
No one on the plane was hurt and authorities do not believe there are any terrorism ties to the incident, said FBI spokesman Frank Fisher.
Fisher declined to identify the man or give details of the incident that prompted the flight's diversion, only characterizing the man's behavior as "unruly."
The man had not been charged by Wednesday afternoon, but that could change, Fisher said.
The flight landed in Albuquerque at about 9:30 a.m. (11:30 a.m. ET), according to airport spokesman Daniel Giron. The flight continued on to Houston about an hour later, after the unruly passenger was removed from the flight.
Continental Airlines is cooperating with local authorities, an airline spokeswoman said.
FOLLOW THIS TOPIC