STORY HIGHLIGHTS
Alain de Botton was Heathrow Airport's first "writer-in-residence"
He spent a week at the airport, talking with travelers and exploring the vast grounds
Truly nothing was off limits, de Botton says
"The whole airport is a giant temple to love," he says after observing kissing couples
(CNN) -- The man at a check-in counter at London's Heathrow Airport lost it.
He had just made a frantic sprint to catch his flight to Tokyo, Japan, only to be told he was too late to board. So he banged his fists on the counter and let out a primal scream so loud that he could be heard at the other end of the terminal.
Alain de Botton was watching it all unfold -- one of the many human dramas he observed as Heathrow's first "writer-in-residence." The job required him to do what many travelers would dread: Spend a week at the airport.
Last year, at the invitation of the company that owns Heathrow, de Botton set up a desk in the departures hall of Terminal 5 (perhaps best known to many travelers for its massive baggage handling problems when it opened in 2008) and took in the sights of what he calls "the imaginative center of contemporary culture."
He also visited the factory where workers assemble thousands of airline meals every day, watched air traffic controllers follow the path of planes on a giant map "like parents worrying about their children" and contemplated the poetry of a room-service menu at his airport hotel, where the roar of a plane taking off once prompted a waiter to shout, "God help us!"
De Botton, a Swiss-born writer who lives in London, chronicles his experiences in "A Week at the Airport," an elegantly slim and funny book recently released in the United States.
He shared more observations with CNN.com in an e-mail interview.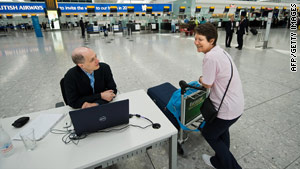 Alain de Botton chats with a passenger at his desk in Terminal 5 of Heathrow Airport.
CNN: How often do you fly?
De Botton: I make about 15 trips a year by plane, mostly for business -- though the traveling bit tends to be (very strangely) the most pleasurable part of the equation. I'm one of those strange people who actually loves the prospect of a very long flight.
CNN: Airports are usually very secretive places. How much freedom did you get to walk around?
De Botton: I only accepted the offer from Heathrow Airport to be their writer-in-residence if they could promise that I'd really be able to snoop around. Airlines and airports are notoriously secretive, often for not very good reasons, so I knew that the project would be immediately undermined if it turned out that I couldn't go where I wanted and ask whatever I felt like asking.
To their enormous credit, Heathrow did really live up to their word, even when I asked to see the immigration suite from where they deport illegal immigrants. Truly nothing was off limits.
CNN: Did anyone look at you suspiciously during your experience? What kind of questions did you get from travelers?
De Botton: Airports are full of rather dramatic behavior of one kind or another, so fortunately I blended in quite well.
I had a big desk in the middle of departures, with a screen showing what I was typing and most people didn't bat an eyelid as they walked past. Others quickly assumed that it was very normal that there should be a guy writing a book by the check-in desks and came to tell me how I could improve my book and what anecdotes I would be a complete fool for not including.
Then there was also a minority of people who just saw me as a useful conduit to information about the location of the restrooms.
CNN: You spent some time with a man who looks for stray bits of metal on Heathrow's runways. What other unusual airport jobs did you find that most air travelers wouldn't know or even think about?
De Botton: One of the most fascinating areas is in-flight catering. Airline meals naturally get a very bad press and it's true, most are absolutely dismal from a nutritional point of view.
However, that's to miss the point. It remains rather exciting that we are a species that can eat Beef Stroganoff at 30,000 feet and not see anything unusual in the activity.
The factory where they are assembled at Heathrow is right by the main passenger terminal, and is filled with Polish immigrants, who assemble meals for the big carriers. It's open 24 hours a day, is full of intriguing machinery, sadness, banter, excitement and tedium. I will never quite look at airline food in the same way again.
To zero in on the most weird job, that of the person who rescues metal cutlery from the trays of inbound flights. This is not someone who most in-flight diners ever think about.
CNN: What job would you most like to have at the airport if given a choice?
De Botton: I would love to run British Airways, and feel I would be eminently qualified for the job. I don't know very much about making money, and nor do they.
However, I am deeply fascinated by the mechanics of getting planes in the sky and around the world -- and that's their area of expertise, too.
I would, at a stretch, also accept the post of CEO of Lufthansa or Cathay Pacific or Qantas.
CNN: What's your favorite airport around the world? How about least favorite?
De Botton: Oslo Airport is terrific. It uses wood and feels like a giant sauna, in a good way. The food is also great. It's the sort of place you'd want to go on a date or just to hang out on another sub-zero winter's day in Oslo.
My least favorite has to be JFK -- why can't the great and proud USA do better than this for its major gateway? It takes a superhuman effort to remain hopeful about the country until one is past customs.
CNN: There was a lot of drama last week in the United States about body scanners and enhanced pat downs at airports during the Thanksgiving travel rush. What's your take on these new security measures?
De Botton: I almost start to feel sorry for the security personnel who have to live their lives in constant readiness of a kind of attack that is unlikely ever to happen on their watch, and who have to attract the constant ire of old ladies and Norse looking guys and girls who look at them and say, "Do you really think that I would want to blowup a 747?"
CNN: Is there anything you used to never notice about airports that you see now?
De Botton: I hadn't noticed just how many kissing couples there are at airports. Once you focus in on this, you realize the whole airport is a giant temple to love.
CNN: Is there anything that worries you about flying now that you would have never even thought about before?
De Botton: Every day sees at least a dozen small incidents at a busy airport. Nothing fatal of course, but still on the edge of worrying. Knowing a lot about flying is, oddly, not a good idea if you are afraid of flying. Ditto medicine.
CNN: You were constantly surrounded by masses of people who would be halfway around the world in a matter of hours. Was it frustrating to stay in place?
De Botton: I was delighted not to be going anywhere and therefore, to be free to actually observe where I was. Part of the problem of airports is that we only go to them when we are off somewhere else, and therefore don't see them as a legitimate destination.
CNN: After observing air travelers for a week, are most people polite and reasonable ... or not so much?
De Botton: Most travelers were incredibly sweet to me -- airports are lonely places and the idea of a writer who was there to listen to them, to find out their stories, proved irresistible to many. I could write many hundreds of novels based on what they told me.
FOLLOW THIS TOPIC