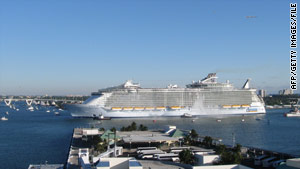 If you can wait to sail on a hot new ship, prices are likely to drop.
STORY HIGHLIGHTS
Don't ever pay the brochure price for a cruise

Book really early or really late for the best deals

Spending an extra $50 per person per day on extras is fairly average
(Budget Travel) -- No matter if it's your first cruise or your 40th, these money-saving pointers and insider tips will have you acting like an old salt in no time. Budget Travel magazine's Trip Coach answers readers' top questions.
What should a novice know to avoid feeling like an idiot?
Follow my five essentials and you'll blend right in:
(1) Don't ever pay the brochure price. You never spring for the hotel rack rate, right? Cruising is the same. The list price in the catalog is there mostly to make all those promotions seem like better deals. If you search in the right spots, you're guaranteed to do better.
(2) It's a ship, not a boat. There's plenty of nautical lingo you can ignore, but calling an ocean liner a boat will get you pegged as an ignorant landlubber every time.
Budget Travel: 8 new natural wonders
(3) Wear whatever you want -- until 6 p.m. It's fine to go casual to a buffet, but at any other type of restaurant, men should swap the Hawaiian shirt for a button-down and blazer, the swim trunks for slacks, and the flip-flops for business-casual shoes. Women, the equivalent.
(4) Passport, passport, passport! Many cruisers rarely leave the ship, what with all the restaurants, zip-line rides, casinos lectures, and comedy shows. But if you ever do want to escape, one sure way to feel like a rube is to get stuck on board. To disembark at most ports, you'll need an international ID.
(5) All mandatory costs (food and lodging) are paid for up front. "It's possible to get by without spending a nickel during the trip," says Carolyn Spencer Brown, editor in chief of cruisecritic.com. But it will be a miracle if you do. Cruise lines are masterful at making all those "optionals" (spa treatments, margaritas, shore excursions) seem too enticing to pass up. So plan ahead to avoid any unpleasant surprises with the purser.
Budget Travel: World's most beautiful lakes
How can I get the best deal?
While many travel agents have been battered by the advent of online booking sites, they still reign supreme when it comes to cruising. Real-live agents are paid commissions by the cruise lines, so you won't pay a cent for their help, and they'll usually offer more insight and personalized advice than your computer.
"Look for an agent who cruises a lot, really knows the ships and can figure out which is right for you," says Paul Motter, cruisemates.com editor. When you do find agents that appeal to you, don't hesitate to test them out with a trick question. For example: Do they foresee any problems if your child isn't potty trained? (Kids in swim diapers aren't allowed in cruise-ship pools. Ever.)
Budget Travel: Best places you've never heard of
When is the best time to buy?
You may have heard that the cruise industry's much-touted "wave season," which runs from January to March, is the optimal time, but really that's just when agencies sell the most cruises, not necessarily when travelers get the best deals. If you really want to save, opt for one of two tactics: Book really early or really late.
Six or more months in advance, cruise lines try to fill up cabins by offering two-for-one deals, free airfare and other promos. But you can also land a discount if you wait until the last minute, somewhere between two to six weeks prior. Last fall, for instance, the price of a seven-day Princess Cruises trip to the Caribbean was slashed from $649 to $499 per person.
Keep in mind, though, that last-minute deals are usually only found for off-season trips: winter in Europe, summer and fall in the Caribbean and spring and autumn in Alaska. Finally, if you're eager to sail on a hot new ship, patience goes a long way: Cabins that went for nearly $1,500 last winter on Royal Caribbean's new Oasis of the Seas are now available for less than $1,000.
How much should I budget for extras?
The reality is that cruises can (and will) nick you at every turn. How much is up to you. Spending an extra $50 per person per day is fairly average, and it's easy to drop a whole lot more.
"The major extra is alcohol," says Brian David Bruns, who wrote about his year working as a cruise waiter in Cruise Confidential (travelerstales.com, $15). "We were always puzzled by passengers who stayed on board drinking $6 Coronas when they could buy them for a buck apiece at a bar in port."
Another way to save: Ask a friendly crew member to tell you about excursions you can book on the spot in port. They generally cost half of what the cruise line charges.
Finally, even though gratuities are normally added to your bill usually $10 to $15 per person per day -- it is possible to change the amount. The only caveat: You'll have to endure a potentially awkward face-to-face with a staffer to detail why the service didn't stack up.
Which cruise line offers the best value?
Again, it all comes back to optional costs. Cruisemates.com recently did the math comparing a luxury ship (Regent's Seven Seas Voyager) with a middle-market ship (Celebrity's Solstice) on nearly identical six-night Caribbean itineraries. At first glance, Regent cost far more: $3,365 vs. $1,895.
But its all-inclusive bill covers airfare, alcohol, shore excursions and tips. If you opted for those extras on Celebrity, your total expenses would be about the same, so it's arguable that Regent is a better value, given its top-notch restaurants and service. To compare more lines yourself, consult the comprehensive, 688-page Berlitz Complete Guide to Cruising & Cruise Ships (berlitzbooks.com, $24).
OVER-THE-TOP AMENITY WATCH
3-D Movies!
Royal Caribbean's Allure of the Seas is the line's first ship built with a 3-D movie theater.
Guitars!
Skip karaoke. Norwegian Cruise Line's Epic rents Gibson electric guitars for $10 a day.
Skyscraper-size rides!
The new water slide on Disney Cruise Line's Disney Dream drops a dizzying 765 feet.
Check out these hot travel deals selected by Budget Travel editors
Note: This story was accurate when it was published. Please be sure to confirm all rates and details directly with the companies in question before planning your trip.
Get the best travel deals and tips emailed to you FREE - CLICK HERE!
Copyright © 2011 Newsweek Budget Travel, Inc., all rights reserved.