Holiday driving tips to help hit the road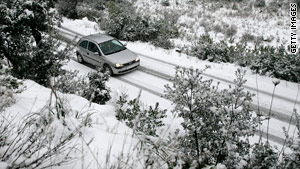 Know what kind of weather you'll encounter and how to drive in it, AAA warns travelers.
STORY HIGHLIGHTS
The number of travelers is expected to increase over 2009
AAA estimates 39.7 million people will be on the roads
Be sure to do a maintenance check on vehicles
Check whether texting or cell phone use while driving is legal where you're going
(CNN) -- Despite all the worry and debate about flying this Thanksgiving weekend, just a sliver of the projected 42.2 million travelers will be going by airplane.
AAA estimates that 94 percent of the people going at least 50 miles between Wednesday and Sunday will be on the roads.
Drivers can expect traffic to be worse this year, too -- the group predicts an 11.4 percent increase from 2009.
Before starting the journey, drivers should do some car maintenance and check on laws that might change the way they drive, AAA says. Here are some tips to help you hit the road.
Before you go, check your tires, wiper blades and battery
AAA suggests giving yourself a week to check tire pressure and tread depth, to replace wiper blades, to fill the windshield washer reservoir and to test the battery. Even if you're already behind on your to-do list, now is the time to take care of it. Don't leave home without an oil change or brake check, too, if you've been putting those off.
Make an emergency road kit
According to AAA, a winter emergency kit should include an ice scraper and snow brush; sand, cat litter or traction mats; a small shovel; gloves, hats and blankets; flashlights with fresh batteries; shop rags or paper towels; jumper cables; warning flares or triangles; drinking water; non-perishable snack bars; warm clothes; first aid kit; basic hand tools; mobile phones and car chargers with important numbers preprogrammed.
Check the weather
Know what kind of conditions you might be driving through, not just the weather at your home and your destination. In Minnesota, snow and ice are getting heavier; in Seattle, Washington, there's a rare snowfall.
Have you spotted some winter weather? Share a photo on iReport!
Brush up on your winter driving technique
Increase your regular following distance. Rather than three to four seconds, make it eight to 10. Avoid skids by applying the gas slowly to accelerate. Above all, said AAA National spokesman Troy Green, be patient and don't let yourself get distracted. See more winter driving tips from AAA.
Know where to use your cell phone
Thirty states and the District of Columbia have recently banned texting while driving. Some cities and states now have laws against distracted driving or using hand-held cell phones at all while driving. But AAA warns that even if it's legal, it's risky to use any cell phone, even a hands-free device, while driving. Check out AAA's list of distracted driving laws.
Keep the kids busy
Use books, games, DVDs -- whatever will keep the kids comfortable and stop them from distracting the driver. Remember, they will need snacks, and will need to make stops, so be prepared to spend more time on the road if you're traveling with children.
See a quirky roadside attraction? Cross a "Welcome to..." sign? Share on CNN iReport's holiday travel scavenger hunt.
Take a break every two hours or 100 miles
Adults need to stop, too. Breaking up the drive periodically will keep you more alert while you're on the road, Green said, which will help you arrive for Thanksgiving dinner in one piece.
FOLLOW THIS TOPIC