U.S. tightens restrictions on cargo from Yemen and Somalia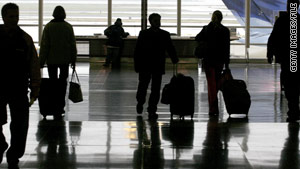 Airline passengers will be prohibited from placing large toner or ink cartridges in their luggage.
STORY HIGHLIGHTS
Passengers are banned from traveling with large printer cartridges
"High-risk" cargo is banned from passenger planes
The moves follow the discovery of explosives in air cargo packages
Washington (CNN) -- New steps implemented Monday to tighten air cargo security include prohibiting airline passengers from traveling with large printer cartridges, banning "high-risk" cargo from passenger planes and asking cargo airlines for earlier access to their manifests, the Department of Homeland Security announced.
In addition, the department is extending indefinitely a ban on air cargo from Yemen and is extending the embargo to cargo from Somalia.
The rules, effective immediately, are designed to thwart package bombs like the two uncovered October 29 on air cargo shipments from Yemen to the United States. The new U.S. steps are similar to rules imposed by the United Kingdom shortly after the October cargo plot was discovered.
Under the new rules, airline passengers will be prohibited from placing toner or ink cartridges weighing more than 16 ounces (1 pound) in their carry-on or checked luggage, according to a Department of Homeland Security news release.
All cargo identified as "high risk" will be banned from passenger planes altogether, and will undergo additional and enhanced screening before being placed on cargo planes, the department said.
"The administration is working closely with industry and our international partners to expedite the receipt of cargo manifests for international flights to the United States prior to departure in order to identify and screen items based on risk and current intelligence," Homeland Security Secretary Janet Napolitano said in the news release.
Previously, aircraft departing from overseas could file manifests electronically up to four hours prior to the arrival of the aircraft in the United States, meaning aircraft were often in the air before U.S. authorities got their first glimpse of the cargo list.
Once manifests are received, the U.S. government processes the data through the Automated Targeting System. The air cargo targeting units at the local port of arrival conduct risk assessments, while the National Targeting Center-Cargo conducts high-level analysis of shipments of concern based on intelligence and targeting rules.
The Air Transport Association of America, the industry trade association, said Monday its member airlines are "in full compliance" with the new security requirements regarding printer and toner cartridges.