STORY HIGHLIGHTS
A couple is spending the year in locations warm enough to feel like summer

Sunny weather "makes your job so much easier," yachting chef says

22-year-old moved to Argentina to start a business, enjoy toasty January temps
(CNN) -- For most of the Northern Hemisphere, summer weather is over. No more grills, flip-flops or summer dresses. Now the snowblower seems to be staring us down while we wait five months to run barefoot.
At least, that is, for most people.
Others refuse to let summer go gently into that good night, changing locations so summer never ends. They're sometimes called "summer chasers" and they're enjoying balmy nights and cocktails on the beach year round.
Sound good? Here are three ways to make it happen.
Follow your dreams -- and plan for them
When Jared Heyman started dating Lauren Goldstein, he warned her about his lifelong dream -- to travel the world for a year, visiting every continent without much of a plan except one thing: To make sure everywhere they go it's summer, or at least warm enough to feel like it. Wary at first, Lauren came around to the idea and in August they began their journey.
"To us, summer means freedom. Since we're taking a year to travel the world, without work or other responsibilities, summer seemed like the most appropriate season to chase. Our strategy is to always be wherever it's summertime, even if that means switching continents and hemispheres when necessary," Heyman says.
Besides balmy weather, they had three other stipulations: Choose places where they'd never been or desperately wanted to revisit, hit all seven continents (minus, perhaps, Antarctica), and allow no more than a week's planning -- just wake up and see where the summer breeze takes them.
So the Atlanta, Georgia, pair quit their jobs in mid-July and started their sojourn in Montreal, Quebec, and California before heading to Italy.
"There is only one word to describe the central California coast: stunning. The five days we spent driving from San Francisco to Santa Barbara were among the most scenic of our lives. Santa Cruz, Pebble Beach, Monterey Bay, Big Sur, Santa Barbara -- each was more beautiful than the last," wrote the couple on a blog chronicling their journey.
Since arriving in Italy, they've seen some spectacular things, including the Maxi Yacht Rolex Cup race in Sardinia, which was huge for Heyman, who is passionate about sailing.
But warm weather in Europe is quickly coming to an end. After stops in Greece and Croatia, the couple will head to the Southern Hemisphere, visiting Cape Town, South Africa, Mauritius and Zanzibar.
Then they'll head to South America to hit Patagonia, Argentina and Florianopolis, Brazil, where they hope to celebrate New Year's Eve. Next year they're loosely planning on Indonesia, Thailand, India, Sri Lanka, plus the Maldives and the Seychelles. The rest is a work in progress.
So how are they pulling this off? Heyman started Infosurv, a global online-survey company, in 1998 and kept his dream in mind as his company grew. Now that Infosurv is thriving, he's using his hard-earned savings to see the world.
"I've made a very conscious effort to save versus spend the windfall. There is nothing that I'd rather spend this money on than travel," Heyman says.
Will they miss other seasons this year? "Nope!"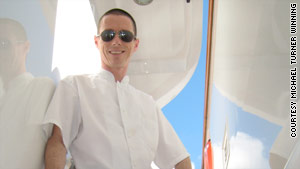 Michael Turner Winning takes advantage of balmy temperatures working on a yacht.
Find a job that connects you with summer
For people who aren't ready to spend that nest egg yet, there are other options: like finding a full-time job specifically suited to warm weather.
Michael Turner Winning is from Vancouver, British Columbia, where winters are typically mild and summers are short. That was alright with him, but one day, working as a chef in a high-end, fly-in British Columbia resort, his life and career took a sharp turn toward the sun.
Impressed with his cooking, some high-profile clients asked him if he'd be interested in working on their yacht in Florida. It was 50 degrees outside and raining. Florida? A yacht? He was on board.
Ten years later, Winning has become an award-winning chef, even appearing as a special guest on the hit reality series "Top Chef." He's also created a gig that allows him to experience summer nearly year round.
"There's something to be said about living in T-shirt, shorts and flip-flops all year," he says.
While most of the Northern Hemisphere is shoveling snow, Winning works 11 months a year in places like Maui, Hawaii, and West Palm Beach, Florida. He also sets sail to destinations in other countries, including Santiago, Chile, where dry, hot summers begin in November, and Buenos Aires, Argentina, where he enjoys long days of sunshine, stunning beaches and plenty of shopping.
When his yachting company charters in the Northern Hemisphere during summer, Winning especially appreciates the beauty of Saltspring Island, British Columbia; Nantucket, Massachusetts; Juneau, Alaska; and the Great Lakes.
So what is it about summer that Winning loves?
"Everything. It makes your job so much easier when you wake up and it's beautiful out. Like the Caribbean in the winter -- you get the cool breezes, it's sunny every day."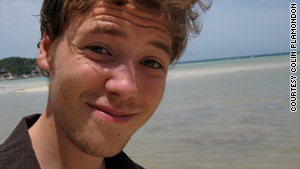 World traveler Colin Plamondon may find himself in Rio de Janeiro when January rolls around.
Take your professional aspirations south
You don't have to work on a yacht to turn work into a year-round summery affair. Technology is allowing people to work as remotely as they want to, even from a private island and multiple countries.
Take Colin Plamondon, who knows he's got a good thing going. At 22, he already owns a successful company and has traveled all over the world. The key, he says, was knowing what he wanted at a young age and taking a different route to get it.
Plamondon grew up in Redmond, Washington, went to college for a semester and quickly realized it wasn't for him. So he quit school, moved to San Francisco, California, began learning business development and, a year later, decided it was time to do what he really wanted. It was January 2007, so he headed to Argentina, where the average temperature was 84 degrees.
"I wanted to be in a position where I was the one hiring, but it's a lot easier in Argentina, where money goes further. I went down there, backpacked around, got started in business and made the money go as far as it could," Plamondon says.
A year later he co-founded Spreadsong, a company that develops mobile applications, including Free Books, a popular iPhone book app. He's continued flying around the world, enjoying warm weather while he grows his business.
"I try to avoid the worst of [winter]. Usually around January I start looking around, hop in somewhere for a few months or move somewhere for the full of it. January through March, I'm in another country," Plamondon says.
He has stayed in hostels and rented bungalows in Buenos Aires, Mendoza and Montevideo, Argentina. Thailand's Koh Tao coastline provided the key inspiration for an iPhone application. He also rented at CocoVivo in Panama for $700 a month, where he could exchange e-mail as he was walking along the beach.
To him, working and living in new environments isn't just a pleasure, it's the way he wants to live.
"It's much more interesting to be in another country. [Last January] I went off to Buenos Aires again and rented an apartment. There were weekly parties, friends visiting from other countries, people doing other interesting things, having a great time, meeting people, hanging out. I lived there for nine months when business was taking off like crazy."
So where will Plamondon be when we're scraping off our frozen windshields come January? He has plenty of options. "I've never been to Rio but I have enough friends there that I can just show up." Sounds nice.