STORY HIGHLIGHTS
LeBron James hosted a party for his girlfriend recently at Red, The Steakhouse

LIV nightclub at the Fontainebleau offers six private skyboxes with bottle service

The Forge, a newly renovated Miami landmark, hosts private functions in its wine cellars
(CNN) -- Miami's getting hotter.
Already a magnet for celebrities and sun seekers alike, the Florida city's allure for sports fans has received a boost with this season's Miami Heat lineup.
The NBA season opens this week with superstars LeBron James and Chris Bosh joining Dwyane Wade as the Heat's "big three," and Miami Beach hot spots are already basking in the benefits of seeing more of basketball's biggest names.
So, where should a visitor hang out in Miami to make the most of the city's dazzling ocean-side party scene?
Stop in at these sizzling spots, all of which have attracted celebs of one stripe or another:
LeBron James has checked it out. Chris Bosh and his fiancee celebrated their engagement there and Dwyane Wade is a fixture, according to Fontainebleau spokeswoman Paula Gomez.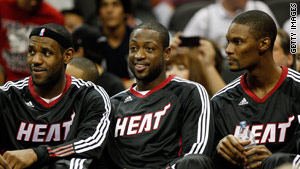 LeBron James, Dwyane Wade and Chris Bosh, from left, sit on the bench during a pre-season game.
The landmark Fontainebleau resort's $1 billion overhaul has attracted a new wave in a long line of celebrity clientele.
Bosh recently dined at the resort's Cantonese restaurant Hakkasan and dropped in at LIV, a high-energy club that encompasses 30,000 square feet of slick party space awash in candy-colored lighting.
LIV gets surprise celebrity performances now and then, and the club is laid out to make guests happy, said Jesse Carvajal, head of Continental Concierge Group, which combines the concierge clout of nine luxury condo highrises.
"These newer bars like LIV and Wall (see below), they put as much into the design as they've done everything else, so your experience as someone dropping a few serious dollars at these clubs is maximized because you don't have all the silly inconveniences.
"It really is a little more friendly club-going than the old-fashioned clubs that, let's face it, they're a nightmare to get a drink at," said Carvajal, who manages Ocean Drive highrise Il Villaggio.
Red, The Steakhouse was recently the site of a party James hosted for his girlfriend, the restaurant confirmed.
Offerings such as tuna tartare, fresh stone crab, premium steaks, chops and seafood and a 700-strong wine list make this slick Cleveland-born steakhouse a hot destination on Miami Beach's Washington Avenue.
And there's a rewards program for big spenders. Spend $10,000 and you're eligible for Red's black card, already loaded with a $5,000 bonus. VIP perks from exclusive wine dinners and travel opportunities to personal trainers are among the card's benefits, according to the restaurant's website.
For another top-tier steakhouse, try Prime One Twelve. Dwyane Wade watched James' televised decision to play in Miami at the Ocean Drive restaurant.
James rented a handful of cabanas at the W Hotel in July as he was announcing his decision to sign with Miami Heat, according to US Weekly.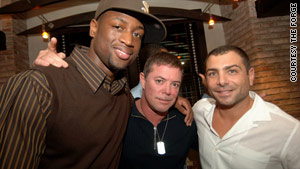 Dwyane Wade with Shareef Malnik, owner of The Forge, center, and Antonio Misuraca, right.
Six bars, two pools, rooftop basketball and tennis courts and a spa should keep guests entertained at this beachfront getaway. Wall, a W lounge, is a hot property for the late-night see-and-be-seen crowd with light shows on the walls and an emphasis on table service.
"It has the latest technology, the latest innovative thinking in small club venues. They are on top of their game, no doubt," Carvajal said.
For a more intimate lodging experience, try The Betsy, a recently renovated 63-room boutique hotel. With an elegant presence on Ocean Drive, the hotel bills itself as "passionately low-key."
The beach is right out front, and if you're really living the Miami Beach way, you'll spend the day there "recovering from the night," Carvajal said.
"It's quite chic. They also have a private rooftop and you can lounge on the rooftop," he said. Spa treatments, therapies and yoga, as well as specialty cocktails, are available up on The Deck.
Hidden in the basement, the exclusive B Bar is more New York speakeasy than typical Ocean Drive lounge. Former Miami Heat star Alonzo Mourning was at B Bar this month, according to a hotel spokeswoman.
The Setai is another top spot for whiling away the daylight hours, Carvajal said.
The serene Asian-inspired oceanfront hotel offers three inviting pools, maintained at different temperatures, or guests can lounge in luxury on daybeds on the sand. Cocktails and snacks are available from the poolside restaurant.
And the brunch at The Setai is "insane," Carvajal said. "It takes 20 minutes to walk through the line of food. There's that much food."
The Forge, one of Miami's classic restaurants, re-opened this year after a $10 million renovation. The new look is hip and sexy, but the history is intact.
"It's come back to life and they maintained all the underground wine cellars in its true vintage look and it's breathtaking, absolutely breathtaking. You can actually go into the cellar and have a private function," Carvajal said.
A blacksmith turned his forge into a restaurant in the 1930s, and since then The Forge, known for its staggering 300,000 vintage wine collection, has experienced a series of glamorous rebirths.
The restaurant and wine bar hosted a welcoming event for Bosh in August and James dined there several weeks ago, according to spokeswoman Jackie Mailhe. Wade has visited many times over the years.
Famous diners have flocked to The Forge for decades: Frank Sinatra, Judy Garland, Elizabeth Taylor, Madonna, Michael Jackson, Al Pacino and more.
No doubt new generations of glitterati will turn up there too.