STORY HIGHLIGHTS
Hang glide over colorful mountains near Chattanooga, Tennessee

Take in the autumn patchwork of California's Napa Valley from a hot air balloon

Let a llama tote your gear during fall foliage hikes near Taos, New Mexico

(CNN) -- Ever thought of trekking through northern New Mexico with a llama to marvel at the vibrant aspens? Or zipping through the color-splashed mountains of Georgia, 2,000 feet above ground? If not, maybe it's time to embark on a fall foliage adventure that stretches beyond scenic drives and hikes. But hurry, the leaves are changing -- and falling -- fast.
Avoid the crowds and travel with El Paseo Llama Expeditions in Taos, New Mexico, for a unique fall adventure.
"The area outside Taos, New Mexico, is a great place to see the aspens turn gold while llamas do the heavy lifting. Kids who are small enough can even ride the llamas," said Rich Beattie, executive editor of TravelandLeisure.com.
El Paseo's llamas will pack gear and carry riders weighing up to 60 pounds. Novice to advanced hikers are welcome, as the company offers excursions along a range of trails through the Sangre de Cristo Mountains, the Southern Rockies and the Rio Grande Gorge.
El Paseo Llama Expeditions' offerings range from half-day hikes all the way to eight-day/seven-night expeditions. Prices start at $74 per person and vary based on the number of days, people and equipment.
Travel + Leisure: America's best fall color drives
Why walk when you can glide? Segway of Manchester in Manchester, New Hampshire, is offering a smooth ride to leaf peepers with its fall foliage tour.
"No, the Segway never caught on, but it still makes for a fun way to tour a destination, especially when you're driving around looking at fall colors," Beattie said.
Segway through color-splashed Manchester with tour guides for two- or three-hour tours. Two-hour tours are $69; three hours are $99.
iReport: Share your fall foliage photos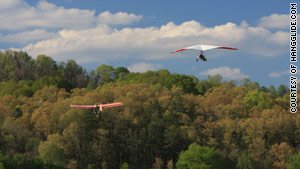 Try hang gliding for a vast overview.
Experience the vibrant fall patchwork of yellows, reds and oranges from a new perspective: 2,000 feet above ground. Lookout Mountain Hang Gliding, about 40 minutes from Chattanooga, Tennessee, in Rising Fawn, Georgia, offers foliage enthusiasts the chance to learn to fly.
No experience is necessary: Lookout has plenty of training packages designed for all levels.
If you're looking for just a day of fun, try the Introductory Experience package, a full day of instruction that involves ground training and flying from small hills about 10 to 15 feet high. By the afternoon, you will be flying tandem with an instructor 2,000 feet above Lookout Valley. For ages 12 and up; $199.
Travel + Leisure: Best affordable fall foliage towns
Napa Valley's incredible wines aren't the Northern California region's only draw. Float through the air with Napa Valley Balloons as you experience ultimate tranquility thousands of feet above ground.
The typical ride starts with a continental breakfast provided by Napa Valley Balloons and a brief pilot orientation. Then you're off, up in the air, looking over corridors of autumn-hued vines, mountains and one of the most beautiful valleys in the world. After the hour balloon ride, passengers are greeted with fine Napa sparkling wines at a champagne breakfast. Standard rate is $240 per person.
It's not just in Napa either. "It's an experience you can have all over the country, from Napa, California, to Asheville, North Carolina, and upstate New York," Beattie said.
Train lovers, rejoice! Witness the changing leaves in total comfort as you stare out your window on a steam-engine train ride. The Steam Railroad Institute in Owosso, Michigan, is offering a fall foliage ride on October 23 between Owosso and Alma, Michigan. Coach tickets are $99.
"Steam engines still evoke a certain nostalgia," Beattie said.
Train lovers can find fall rides across the country in states from Connecticut and West Virginia to Indiana and beyond.
FOLLOW THIS TOPIC