STORY HIGHLIGHTS
Palawan province is made up of about 1,700 islands

iReporter Rebecca High describes it as "engaging, enigmatic, diverse"

"I didn't want the typical Boracay beach resort experience," High said
(CNN) -- Dazzling beaches, pulsing jungles, rich underwater life and friendly locals greet visitors to the Philippines' Palawan province, made up of about 1,700 islands along the country's western edge.
A top destination for nature lovers, Lonely Planet describes Palawan as "a magnificent, coral-fringed range of jungle-clad mountainous islands jutting up dramatically from the Sulu Sea."
iReporter Rebecca High, 22, recently visited friends serving in the Peace Corps in Palawan.
High, currently living in Seoul, South Korea, was struck by the contrast between the area's poverty and its remarkable natural beauty. She answered six questions about her experience on iReport.com: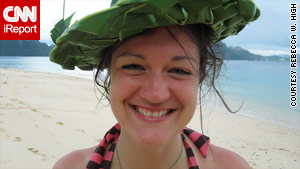 iReporter Rebecca High in Palawan, wearing a palm frond hat crafted by a local guide.
Top not-to-be-missed experience. Why?
Riding the bus from Puerto Princesa up through the heart of the island to El Nido, at the northern shore ... it's the ultimate Filipino experience: crowded into a small dirty bus with open windows and beautiful people of all ages and stories. Plus you have time to marvel at the rugged beauty, squalor, and everything in between.
First impression, and did it change?
Waiting for a connecting flight from Manila to Puerto Princesa, I came face-to-face with this sign on the back of a bathroom stall: "Life is a process not a destination, a mystery to be lived, not a problem to be solved."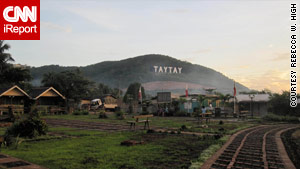 A view of the coastal village of Taytay in Palawan, Philippines
It was the perfect motto to confront after a stressful week at work and mad rush to the airport that morning. I walked out of the bathroom and looked out the huge windows of the airport, across the runway to the green hills and palms beyond. And I knew that this would be a life-changing adventure. My impression didn't change, and I consider my time in Palawan a very worthwhile education.
Share your trips on iReport.com: Just back from
Lasting memory
Discovering hidden lagoons, caves, islands, and seeing my first in-the-wild sea turtle while snorkeling off Taytay and El Nido.
Three adjectives that capture this place
Engaging, enigmatic, diverse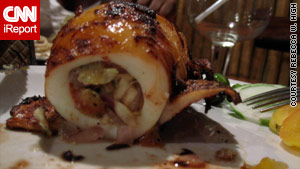 High ate this cooked squid dish at Squido's in El Nido.
Biggest surprise
Wow, dirt roads and motorcycle taxis in the island's capital? This is third world! But these boys are the most adorable and respectful shuttle drivers I've ever had! I did indeed love it, but traveling with American Peace Corps [volunteers] and through the rural Philippines is hard work! It's well worth it, though. I didn't want the typical Boracay beach resort experience, and I surely didn't get it!
Most delicious food, drink or place to eat
Stuffed squid in El Nido was memorable, mango and avocado shakes were divine, and one of the best cottages and kitchens of all was La Casa Rosa in Taytay. Overlooking the old fort and the bay, they served us lomi (noodles), adobo, pizza, and San Miguel [beer] as the living jungle around us hummed into the wee small hours.
Have you been to the Philippines? Share your tips in the comments section below.
FOLLOW THIS TOPIC