Just back from: Barbados
Join the conversation
CNN iReport
STORY HIGHLIGHTS
Beth Alice and her family had a great stay at the Bougainvillea Beach Resort in Christ Church

Alice says scenic Bottom Bay is a must-see spot on the island's southeast coast

She describes the island as "sultry" and "fragrant"
Editor's note: "Just back from" is a new weekly feature generated from iReport submissions. Share stories of your recent travels.
(CNN) -- Ah, beautiful Barbados! This independent island in the Lesser Antilles offers a unique mix of West African, Caribbean and British flavors.
iReporter Beth Alice of New York recently visited Barbados on a family trip.
The family stayed on the southern end of the island at the Bougainvillea Beach Resort in Christ Church, which Alice would "absolutely recommend."
"It's not too big and not too small. There is a personal touch to every room in the hotel," she said.
Alice answered six iReport.com questions about her trip: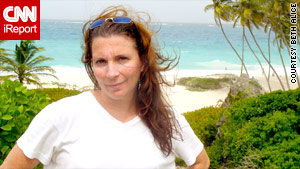 "Sultry, tranquil, fragrant" is how iReporter Beth Alice describes Barbados.
Top not-to-be-missed experience
"Bottom Bay Beach is a gem! It is below a cliff with the most magnificent view," Alice wrote on iReport.com.
Located along the southeast coast, the surf is very strong and swimmers should exercise extreme caution at Bottom Bay, but the crashing turquoise waves and stunning setting are a must-see.
Alice recommends renting a car to explore the island, which covers about 166 square miles (430 square kilometers).
First impression, and did it change?
"Breathtaking soft sandy beach, azure sea, breathtaking. If my first impression changed, it only got better," Alice said.
Lasting memory
"The sound of the ocean while in a hammock on the beach, looking up at the stars."
Three adjectives that capture this place
"Sultry, tranquil, fragrant"
Biggest surprise
"Beautiful Bougainvillea flowers all over our hotel room. The fragrance was intoxicating."
Most delicious food, drink or place to eat
"Pina Coladas at the pool bar ;)," Alice wrote. "The food is great, the beach and sea ... I could go on!"
Share your travel memories at Just Back From.Have recommendations for Barbados? Please share them in the comments section below.