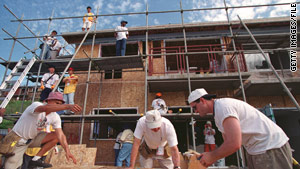 Habitat for Humanity International builds homes around the world.
STORY HIGHLIGHTS
To get an idea of the opportunities available, visit idealist.org

Read reviews and track down references from recent volunteers

Costs vary widely; some trips abroad will cost thousands of dollars

(Budget Travel) -- Lying on a beach is nice and all, but sometimes, using your downtime to make a difference is just what the doctor ordered. Budget Travel's Trip Coach responds to readers' voluntourism questions.
What are volunteer vacations anyway?
Really, anything that combines travel and volunteer work. You could spend a week lounging on the beach in Phuket and teaching English to local schoolchildren. Or you could rough it for a month building houses in Haiti. In short, there is a trip for any taste, and the options are growing every year.
Comprehensive stats are hard to come by (while we were reporting this story, a few volunteer organizations asked us to send them numbers if we found any), but according to the most recent study on hand, from Washington University in St. Louis, more than 1 million Americans volunteered abroad in 2008, a 14 percent uptick since 2004.
Do celebs like Angelina Jolie inspire volunteer travel?
And as global crises -- like the earthquake in Haiti, Hurricane Katrina and the 2004 tsunami -- become more visible thanks to our increasingly wired world, interest in voluntourism is growing even more.
"People today feel much more connected than they ever have," says Erin Barnhart, director of volunteer initiatives at idealist.org, a website with a database of thousands of international volunteer trips. "They're seeing things happen in real time and saying, 'I want to help.'"
Budget Travel: 8 places every American should see
So which trip is right for me?
"You'd be surprised by how many bad matches there are between volunteers and organizations," says Doug Cutchins, co-author of "Volunteer Vacations" (chicagoreviewpress.com, $19).
Finding volunteer trips that actually help
The best place to start your search for a good fit is at idealist.org. The 15-year-old site lists more than 96,000 nonprofits and lets you customize your trip search based on 58 subjects of interest, from disaster relief to wildlife. Another good option is volunteerinternational.org, which posts hundreds of trips and vets the 10 organizations it lists according to safety standards and volunteer satisfaction.
Cutchins's book is another top resource, with a handy index of global opportunities, including notes on which ones are friendly for families, seniors and disabled participants. Once you've come up with your short list, read reviews, track down references from recent volunteers, and, above all, be realistic.
"People have rather lofty ideas of what it's like to volunteer in a place like the rain forest," says Peter Slowe, founder of Projects Abroad, which runs more than 100 voluntourism trips (projects-abroad.org). "The fact is, there are mosquitoes, there are animals, and it rains a lot. Not everyone is suited for camp life."
The same goes for disaster areas. "Unless you have special skills in medicine or construction, it's best to just donate money," advises Paul Clammer, who spent a week clearing rubble in Haiti with Hands On Disaster Response (hodr.org) a few months after the 2010 earthquake.
"If you do go, you're there to work, often under difficult conditions. Destruction is everywhere. Your trip shouldn't be seen as a vacation -- that's the last thing it is."
Budget Travel: World's weirdest hotels
How much should I expect to spend?
Despite the fact that you might be roughing it and doing manual labor, you'll still be paying for the privilege -- and costs vary to a considerable degree. Luxury outfitter Hands Up Holidays, for instance, charges $5,400 for a cushy 10-day tour of Ecuador and the Galápagos Islands, followed by three days of helping local fishermen clear debris from the beach (handsupholidays.com).
At the other end of the spectrum, trips with World Wide Opportunities on Organic Farms (wwoof.org) are effectively free. The U.K.-based outfit invites travelers to work for as many days as they wish in exchange for free lodging at farms and vineyards in 98 countries. Your only expense is the flight over.
WWOOF your way around the world
I've heard volunteer vacations are tax-deductible. Is that true?
Yes, but with caveats. You can write off all trip costs -- visas, flights, the works -- as long as you volunteer full, 40-hour weeks for the length of your stay and do so through a nonprofit recognized by the IRS (specs are listed in Publication 526 at irs.gov). Hang on to all receipts, and keep a written description of your program in case you get audited.
If the organization is for-profit (many are, so be sure to ask) or if you tack on work-free vacation days either before or after your volunteering stint, then the IRS views the whole trip as a vacation and your expenses are not deductible.
Budget Travel: Bizarre traveler behavior
Can I bring my kids along?
You could -- many voluntourism groups welcome children -- but the real question is, will they have fun?
"Kids get bored if they have to sit in the forest for three hours and wait for some bird to show up to note it in a log," says Projects Abroad's Slowe. "So it's best to plan a trip with a lot of variety in the itinerary that keeps the kids occupied with exciting little jobs, like helping to collect eggs laid by turtles."
That way, you'll get some space, too -- and your family will have twice as many stories to share at dinner each night.
Get the best travel deals and tips emailed to you FREE - CLICK HERE!
Copyright © 2011 Newsweek Budget Travel, Inc., all rights reserved.
FOLLOW THIS TOPIC