U.S., global groups to share aviation safety data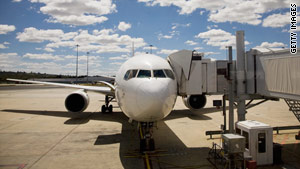 Four global groups including the U.S. Department of Transportation will share data to improve aviation safety.
STORY HIGHLIGHTS
Department of Transportation joins three international groups in information exchange

Confidential or protected information will not be exchanged

The groups will determine how information will be shared

(CNN) -- In a move to make air travel safer, the U.S. Department of Transportation agreed Tuesday to join three global organizations in establishing an exchange of aviation safety information.
"When countries and international organizations each share their information on air safety, they can help make flying safer in all parts of the world," U.S. Transportation Secretary Ray LaHood said. "This agreement shows that the global aviation community is moving forward to share data that will improve aviation safety across borders."
The agreement, signed Tuesday in Montreal, Quebec, at the 37th Assembly of the International Civil Aviation Organization, creates the framework and outlines steps that will lead to the launch of the Global Safety Information Exchange.
The Department of Transportation joins the International Air Transport Association, the International Civil Aviation Organization and the Commission of the European Union in the agreement. The groups will begin the collaboration by identifying information collected by each group that is most relevant to risk reduction, according to the International Air Transport Association.
The U.S. agency said in a statement that the information exchanged will come primarily from broad studies and analyses. The organizations will not exchange confidential information, the agency said.
The air transport group will provide de-identified information collected from 345 airlines through its operational safety audit program. The civil aviation group will coordinate the effort, aided by a steering group made up of members of each of the organizations that will determine how to communicate the information.
"We have a long history of working together with governments using global standards to lower the accident rate," said International Air Transport Association Director General Giovanni Bisignani.
"In 1945, there were 9 million passengers and 247 fatalities. In 2009, 2.3 billion people flew with 685 fatalities. Every fatality is a human tragedy that reminds us that we must do better," Bisignani said.
FOLLOW THIS TOPIC