FAA takes step toward new safety culture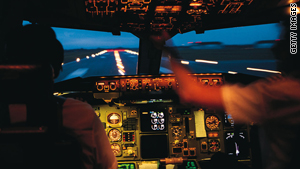 Pooling pilot and air traffic controller safety information will provide a more complete picture, the FAA said.
STORY HIGHLIGHTS
Information from voluntary safety reporting programs will be merged

Programs are designed to flag safety issues without assigning blame

Uniting data from pilots and air traffic controllers will provide more complete safety strategy

"You're only as good as your information," FAA spokesman says

(CNN) -- Self-reported pilot and air traffic control safety information will be integrated for the first time to give the Federal Aviation Administration a more complete picture of safety concerns, the FAA announced Wednesday.
The Aviation Safety Action Program and the Air Traffic Safety Action Program both allow airline employees to report problems that are not deliberate or criminal in nature without fear of retribution.
Information from the two programs will be merged to provide perspectives from both pilots and controllers in addressing safety issues. ASAP, where pilots can report concerns, has been in place for more than a decade. The air traffic controller program, ATSAP, is only about two years old, according to FAA spokesman Paul Takemoto.
"They're both part of a move toward a new safety culture for the FAA where we're getting away from assigning blame," Takemoto said.
"You're only as good as your information ... and if you have a climate where [employees] are afraid of being punished, you're going to get the minimal amount of information, you're going to get only what's required."
The FAA mandates reporting certain errors, and "appropriate action is taken on the local level" to address performance issues, Takemoto said, but employees' names are not included in upper-level reports used to get to the root of potential problems.
"Safety is our number one priority," U.S. Transportation Secretary Ray LaHood said in a statement. "Having pilots and controllers provide information about potential air safety problems will help us correct them before they become accidents."
For example, during preliminary information sharing efforts, air traffic controllers in Chicago, Illinois, reported to ATSAP that aircraft from a certain airline were landing too fast, missing a turnoff and creating traffic flow issues at the end of the runway, Takemoto said.
Troubleshooters looking into the problem learned from pilot reports to ASAP that the airline had changed flap settings on certain aircraft, causing the fast landings. That information helped the air traffic controllers adjust traffic coordination, Takemoto said.
"This agreement is formalizing both of these programs speaking to each other," he said.
The first agreement is between United Airlines, the airline's chapter of the Air Line Pilots Association and the FAA. The agency expects other carriers to come to similar agreements on information sharing between the two safety reporting programs.
FOLLOW THIS TOPIC