Updated 'Fly Rights' consumer guide released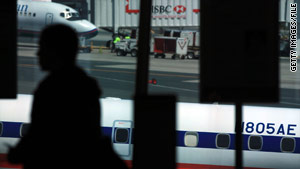 The guide offers advice to travelers and outlines federal consumer protections.
STORY HIGHLIGHTS
Guide offers air travel advice, outlines federal consumer protections

The updated version of the guide includes the tarmac delay rule and other new regulations

The consumer handbook was first published in 1973

(CNN) -- The Department of Transportation's updated handbook for consumer air travelers outlines everything from choosing loyalty programs and making official complaints to the new three-hour tarmac delay limit.
On Tuesday, the department released a revised version of "Fly Rights: A Consumer Guide to Air Travel," adding information on the department's new consumer protections, which include the tarmac delay rule, reporting requirements for on-time performance and the airlines' obligation to respond to complaints.
The guide, first published in 1973, offers advice on topics such as finding the best air fares and avoiding travel scams as well as information on federal regulations protecting air passengers.
"We take the rights of airline passengers very seriously," U.S. Transportation Secretary Ray LaHood said in a statement.
"Ensuring that the flying public has access to the best possible resources and consumer information is an important part of our mission, and this new version of Fly Rights will help air travelers better understand their rights as consumers."
The DOT also recently released a guide for parents of minors flying alone.
Both guides are available online, or passengers may request free printed copies via mail or e-mail (DOT Warehouse, 3341-Q 75th Ave., Lanham, MD 20785; dotwarehouse@dot.gov). When requesting printed copies, specify item number X0111A for "Fly Rights" and X0176 for the unaccompanied minors guide.
FOLLOW THIS TOPIC