Government reports dip in tarmac strandings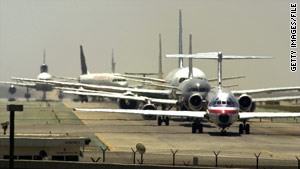 Long tarmac delays have dropped since the U.S. government implemented a delay rule April 29.
STORY HIGHLIGHTS
There were three long tarmac delays in June, compared with 268 in June 2009

The number of canceled flights remained the same at 1.5 percent

Dip in air traffic may have eased effects of newly implemented rule

(CNN) -- The government's much-debated tarmac delay rule seems to be having the desired effect of cutting the number of flights stuck on the tarmac for three hours or more.
In June 2010, there were three such strandings, compared with 268 tarmac delays of more than three hours last June. In April and May, there were four and five lengthy delays, respectively, compared with 74 in April 2009 and 34 in May 2009.
The rule, which threatens fines of up to $27,500 per passenger on flights that experience tarmac delays exceeding the three-hour limit, went into effect April 29. June airline performance data were released Tuesday.
The rate of canceled flights, which some critics of the rule predicted would spike as airlines tried to avoid pushing up against the time limit, remained steady in June at 1.5 percent. In May, however, 1.2 percent of flights were canceled this year, compared with 0.9 percent in May 2009.
Continental Airlines CEO Jeff Smisek blasted the rule at an investor conference in March, saying the airline would cancel more flights to avoid risking fines.
From April through June, the percentage of Continental flights canceled remained in line with 2009 numbers, but many large carriers, including Continental, cut operations in 2010 in response to waning consumer demand. Lighter air traffic generally means more room to manage schedules.
John Hansman, director of the International Center for Air Transportation at MIT, cautioned against simple numerical comparisons because weather, mechanical conditions, the volume of air traffic and availability of crews and other factors may influence cancellations and delays.
"You can have a particularly bad month where you cancel a lot of flights independent of the tarmac rule," Hansman said. Still, airlines are likely to cancel flights more aggressively with the threat of fines looming, he said.
June airline on-time performance remained steady with 76.4 percent of flights arriving on time, compared with 76.1 percent in June 2009.
The Department of Transportation is looking closely at performance data to gauge the rule's impact.
"We want to continue to keep an eye on things, especially through the busy summer months, and see if that continues. But it looks good so far," spokesman Bill Mosley said.
Hansman said he thinks the rule has been effective in reducing the number of long tarmac delays because the threat of fines has pushed the airlines to modify their operations slightly.
"I think it remains to be seen what will happen when the traffic builds up and you start getting lots of delay within the system," Hansman said.
FOLLOW THIS TOPIC