King Tut's chariot races to New York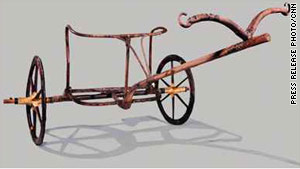 You don't have to go back in time to see King Tut's chariot. Just head to New York starting next week.
STORY HIGHLIGHTS
Chariot was found in ancient Egyptian king's tomb
Official suggests King Tut may have fallen off the chariot, ultimately causing his death
This is the first time the chariot will travel outside Egypt
It will soon be housed among other prized artifacts in an Egpytian museum
(CNN) -- A chariot once owned by Egypt's King Tutankhamun more than 3,300 years ago will be on exhibit starting next week at the Discovery Times Square Exposition in New York, officials announced Monday.
"This is the first time that the chariot will travel outside Egypt," said Dr. Zahi Hawass, secretary general of the Supreme Council of Antiquities. "As we discover more about Tutankhamun's death, we may find that this very chariot is an important piece of the puzzle that we've been working for decades to solve."
According to a statement released Monday by Egypt's antiquities chief, Hawass suggests Tutankhamun may have fallen off the soon-to-be displayed chariot during a hunting trip, ultimately resulting in the king's untimely death at age 18 or 19.
"It is a once-in-a-lifetime opportunity for the people of New York to see something of such great significance from the boy king's life," Hawass said.
Howard Carter found the chariot among King Tut's burial equipment in the southeast corner of his tomb's antechamber, along with three other chariots, the news release said. The antechamber is the largest and first room of the tomb in the Valley of the Kings.
Carter, a renowned English archaeologist and Egyptologist who discovered King Tut's tomb in 1922, has described the room as being filled with carved chairs, beds and chariots thrown and stacked next to one another.
Carter, who died in 1939, described the stand-out chariot as being very light and lacking in decoration and said it has open-sided construction with extremely worn tires -- all indicators, he suggested, that it was a chariot used for "hunting or exercising purposes."
While the chariot may hold the key to an ancient secret that has plagued historians for decades, the general public will finally get a chance to see the unique treasure and draw their own conclusions to the age-old mystery of King Tut's death.
The widely anticipated chariot was originally slated to be on exhibit in April, when the tour opened in New York, but a tour representative said that "bringing in antiquities is more complicated than just shipping them overseas."
The chariot, along with the 130 other artifacts found in King Tut's tomb, will soon be permanently housed in the Grand Egyptian Museum in the desert west of Cairo at Giza, less than two miles from the pyramids.

FOLLOW THIS TOPIC