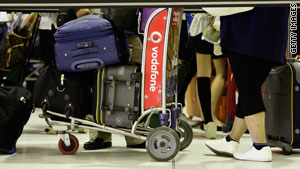 Woman says airline didn't refund her checked bag fee after losing the bag.
STORY HIGHLIGHTS
Air traveler from Washington state wants American Airlines to pay $5 million
Danielle Covarrubias paid $25 to check her bag on a flight, but says the bag was lost
Complaint: She asked that her bag fee be refunded, but she was denied a refund
Airline disputes her story; says passengers can always request a fee refund
(CNN) -- Lots of fliers hate paying for checked bags, but one air traveler was so frustrated by the fee and a lost bag that she's taking an airline to court.
Danielle Covarrubias of Pierce County, Washington, wants American Airlines to pay $5 million.
The airline "has breached its agreements with its passengers every time they have lost or delayed luggage and failed to refund the passengers their baggage fee," according to a class action complaint Covarrubias filed in federal court earlier this month.
But American Airlines is disputing her version of events and stressing that passengers can always request a fee refund as part of a baggage claim.
In the court papers, Covarrubias said she paid $25 in May to check her bag with American Airlines for flights from Seattle, Washington, to Grand Rapids, Michigan, but the bag was nowhere to be found when she arrived.
"During the next 24 hours [Covarrubias] called American Airlines to find out the status of her bag. Each time she was informed that they did not know where it was, whether it was lost, or if it would ever be returned," according to the complaint.
"In her last conversation with American Airlines, [she] asked what the Airline could do. She was told nothing could be done."
The contents of the bag were worth $800 and Covarrubias spent an additional $300 for new clothes and toiletries, the complaint states.
Covarrubias then asked that her baggage fee be immediately refunded, but she was denied a refund, according to the court papers.
American Airlines counters the incident in question happened on a flight from Chicago, Illinois, on the second leg of her trip to Michigan. (American doesn't have nonstop flights from Seattle to Grand Rapids.)
That flight was canceled, so American booked Covarrubias on another airline, said American Airlines spokesman Tim Smith.
When Covarrubias arrived in Grand Rapids and found her bag missing, she spoke with the other airline about the issue, Smith said. The bag was found and delivered to her the next day by that airline's representative, he said.
"We are told by the other carrier that at no time did Ms. Covarrubias ever make any claim with them for damages for her late-arriving bag or anything else," Smith said.
American Airlines hasn't been able to find any record of Covarrubias ever contacting or speaking to American about her delayed bag, a possible claim, or checked bag charges, Smith said.
"Any of our customers who choose to file a baggage claim with American Airlines are always welcome to include a request for a checked bag fee refund as part of that claim. That is the proper procedure for any customer to seek a refund on a checked bag charge," Smith said.
Most major U.S. carriers now charge passengers to check their bags -- part of a trend to avoid fare increases by charging fees for services that used to be included in the ticket price.
From January to March alone, the airlines collected $769 million in baggage fees, according to the Bureau of Transportation Statistics.
FOLLOW THIS TOPIC