STORY HIGHLIGHTS
CNN.com readers share their experiences with in-flight turbulence
"We all kept looking at each other like 'This may be it,' " one poster writes
"It was dead silent for the entire three to four minutes of abject terror," another recalls
Commenter: "When it was over all you heard were people crying and sighs of relief"
(CNN) -- Pilots say that flying in turbulence is like driving a car on a bumpy road. It sounds reassuring, unless you're a passenger stuck in a shaky cabin, frozen with fear and not exactly comforted by the 35,000 feet of air between you and the ground.
The recent turbulence that forced a United Airlines plane to make an unscheduled landing after 21 people were hurt in the middle of a transcontinental flight has air travelers wondering how they would react in a similar situation.
Many are also paying close attention as passengers on Tuesday's flight continue to recall the terrifying moments on board.
John Romolo had a cup of coffee on his tray table and was dozing in his seat when turbulence hit and the plane suddenly dropped. He flew from his seat, hit the ceiling and landed across the aisle -- one row up -- on other passengers' laps.
"I thought the plane was really going to crash," Romolo told CNN affiliate KMGH. "It was scary."
United Airlines declined to comment beyond the statement it released on Tuesday night, which read in part: "The crew put safety first and immediately diverted the aircraft to Denver to get medical attention as quickly as possible for those who were injured."
'I was hysterically crying'
CNN.com asked readers to share their experiences with in-flight turbulence and many responded by describing bumpy trips that in some cases took years to get over.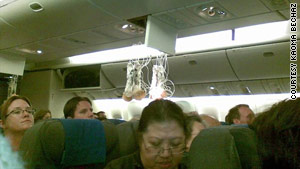 A passenger on the United flight that hit severe turbulence Tuesday took this photo of the cabin after the incident.
"I thought a Southwest flight I was on was going to crash for about half-an-hour one time. It was terrifying. There were only about 15 passengers on the plane at the time, but we all kept looking at each other like 'This may be it,' " wrote a poster identified as "mm1200x."
"The plane kept falling out of the sky suddenly and would pitch left and right at sharp angles. I had a morbid fear of flying for a few years after that incident."
Another poster recalled a frightening trip for work.
"I became a 'born-again Christian' over Lexington, Kentucky, on a flight to Chicago. It was a business trip and out of nowhere the plane dropped and began jolting from side to side. Nobody said a word. I white-knuckled the rest of the flight. I don't fly much anymore!"
The worst turbulence "gr1088" ever experienced was during a flight back to the United States from Japan.
"I was 16 and sitting away from my parents. I even held on to the arm of this Japanese man next to me while I was hysterically crying along with a few others in the cabin. Everything in the overhead bin was shifting back and forth and all the TVs and lights just cut off and it was moving us back and forth so much that you could even hear the luggage stored in the plane moving around," the poster wrote.
"It was just so terrifying. When it was over, all you heard were people crying and sighs of relief. Someone's bag even fell on my head when they opened the overhead bin. Everyone clapped once we landed also. It was honestly the worst experience of my life."
'Eerie silence'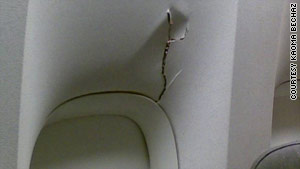 A passenger on the United flight was thrown so violently into the side of the cabin that it caused a crack.
Many described the feeling of terror that descends on a plane cabin when passengers think they are going to crash.
"I wish this ill upon no one. If you have ever been on a plane that makes an emergency landing, people around you writing final thoughts, people crying, people throwing up. ... It's the scariest, most surreal thing in the world," wrote one poster.

Video: Diverted due to turbulence
"This happened to me in April on a flight to Chicago. The difference was that it was dead silent for the entire three to four minutes of abject terror. United followed up with apologies and said it was a wind shear at 30,000 feet. Nose-diving for the ground in the eerie silence of the cabin is something I will never forget," said another CNN.com reader.
Finally, many posters implored their fellow passengers to keep their seatbelts buckled at all times.
"I have been in some bad turbulence where the plane felt like it was pounding the sidewalk as we were in the middle of turbulence. It is very scary as all I could think was the plane was going to split in half or crack. I know that my seat belt is on at all times and even if I am on a smooth flight and the seat belt sign is off I play it safe and keep it on and tight," wrote "CbsSheb."
FOLLOW THIS TOPIC