Inventor of airplane flight recorders dies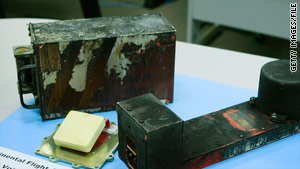 Recorders recovered from crash sites have helped investigators pinpoint causes.
STORY HIGHLIGHTS
David Warren's interest in electronics started when he was a boy
His father was killed in a plane crash
Warren worked on the investigation of the first commercial jet crash
At first, no one accepted his idea of a flight voice and data recorder
(CNN) -- David Warren, the man who invented the airline flight data recorder commonly, though now incorrectly, known as the "black box," has died in his native Australia, the defense department said.
Warren died Monday at the age of 85.
Warren was born in 1925, the first child born to European parents in Groote Eylandt in northern Australia. He was sent south to boarding schools in Sydney for his education, according to a biography posted on the defense department website.
Warren's father was killed in 1934 in one of Australia's earliest air disasters. The last gift he gave his son was a crystal radio set.
Warren listened to the radio after lights-out in his school dorm, sparking an interest in electronics, according to his biography. He began building radios as a hobby and later hoped to become Australia's youngest "radio ham," the website says.
But Australia banned amateur radios during World War II and Warren turned to chemistry instead -- first as another hobby and eventually as a life-long profession. But it was his knack for electronics that earned him fame.
After the crash of one of the world's first commercial jet airliners, the Comet, in 1953, Warren was summoned to participate in the probe that followed, his biography says. He argued that a cockpit voice recorder would help explain mysterious plane crashes, though his idea generated little interest at first.
But Warren was determined. He designed and built an experimental unit that could continually store up to four hours of conversation as well as flight instrument readings. Five years later, his idea was accepted, the website says. It took another five years before flight data recorders became mandatory in Australian aircraft.
Warren's device -- now orange, not black -- is installed in every passenger airline around the world, "a testament to his pioneering work," the Australian defense department says.
In 2008, the Australian airline Qantas named one of their jets after Warren to honor his contribution to the aviation industry.
Warren is survived by his wife, Ruth, four children and seven grandchildren.
FOLLOW THIS TOPIC