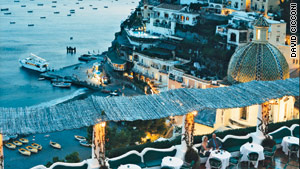 STORY HIGHLIGHTS
Danny DeVito's ancestors were from Italy

To avoid the winding roads of the Italian coast, he and his family took a speedboat

In Positano they stayed at Le Sirenuse, which overlooks the water
Writer John Steinbeck called the hotel "first class"
(Travel + Leisure) -- "My family comes from San Fele, in southern Italy, and growing up in Asbury Park, New Jersey, my house was always filled with relatives from the old country --sleeping in chairs, eating, and drinking my uncle's homemade red wine.
"My mother made regional Italian dishes with lots of vegetables -- fennel, broccoli, dandelion greens. From the time my kids were born, I couldn't wait to bring them to Italy and expose them to their ancestry and culture.
Travel + Leisure: World's strangest buildings
"In 1993, my wife, Rhea [Perlman], and I flew with them to Rome, then we took the train to Naples. We were scared to death of the winding roads of the Amalfi Coast, so we chartered a speedboat to take us to Positano.
"We blasted Pavarotti on the boom box and rode past Naples, Sorrento, Capri off in the distance -- and oh, my God, it was exhilarating. That incredible blue sea, that coast, those islands. We ate the leftover salumi and cheeses we had packed for our picnic lunch on the train.
"We stayed at Le Sirenuse, on a cliff overlooking the water. The first night, Rhea and the kids and I went down to the beachfront restaurant Chez Black, and of course I wanted to eat every item on the menu. I ate like I was going to the chair.
"The next thing I know, a server brings out the limoncello. That got me, right there. I wasn't a crème de menthe or crème de cacao kind of guy. Suddenly -- in that tiny town, lemons growing on vines right up the walls -- it was like I had discovered something. Ever since then, I've wanted all the limoncello I could drink.
"And now I make my own."
Travel + Leisure: America's best cities for summer travel
About Le Sirenuse
The San Pietro may be flashier, but nothing beats archrival Le Sirenuse for traditional, dignified luxury. In 1953, two years after it opened, John Steinbeck described it as "an old family house converted into a first-class hotel."
More than half a century of overexposure later, that impression remains at this storied hotel, now in its second generation of Sersale family management.
Nearly all the rooms in the poppy-red, 18th-century villa, with museum-quality antiques and hand-painted ceramic-tile floors, have a private balcony or patio overlooking the bay. Diversions include an alfresco champagne-and-oyster bar, a pool and Aveda spa, and a vintage wooden speedboat for tooling up and down the coast in 1950s-starlet style.
The Neapolitan menu at the restaurant, La Sponda, was devised by Don Alfonso, southern Italy's first chef to garner three Michelin stars (for his restaurant in nearby Sant'Agata sui Due Golfi).
Room to book: Settle for a partial rather than full sea view for savings of nearly $300 -- but don't bother with rooms without any sea view, despite deeper discounts.
Insider tip: For more quiet and privacy, book a lower-level room, below the pool.
Travel + Leisure: Most-complained-about airlines
Planning a getaway? Don't miss Travel + Leisure's guide to the World's Best Hotels
Copyright 2012 American Express Publishing Corporation. All rights reserved.
FOLLOW THIS TOPIC