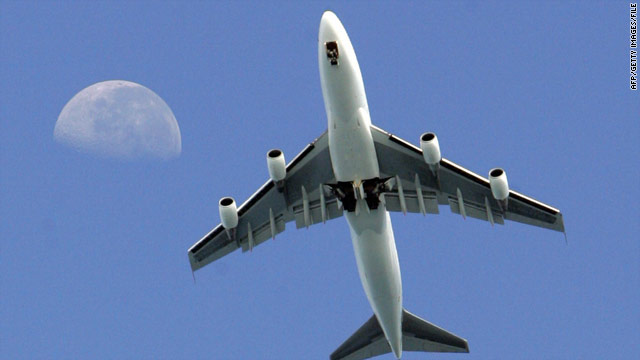 STORY HIGHLIGHTS
Study is based on responses from more than 12,300 passengers
Alaska Airlines ranks highest in overall satisfaction among traditional carriers
JetBlue leads the low-cost segment for the fifth year in a row
US Airways is at bottom of traditional carriers list; Frontier lowest among low-cost carriers
(CNN) -- Air travelers seem to be constantly complaining about fees, the lack of service and cramped seats on flights, but surprisingly their level of satisfaction with airlines is on the rise, a new survey finds.
Overall contentment with U.S. and Canadian carriers has reached a three-year high, according to the J.D. Power and Associates 2010 North America Airline Satisfaction Study released Tuesday.
But the rating is still below the grades the industry was receiving before it began introducing checked-bag and other fees that have infuriated passengers, said Stuart Greif, vice president and general manager at J.D. Power and Associates.
Ironically, the recent tough economic times that have cut into the carriers' bottom lines also may be playing a role in boosting satisfaction levels, he said.
"Fewer passengers flying during that time, base fares being down, fewer passengers checking bags in general ... that was helpful in terms of the airlines performing better" in categories like cost and on-time performance, Greif said.
(Overall satisfaction score based on a 1,000-point scale)

Traditional Carriers
1. Alaska Airlines
2. Continental Airlines
3. American Airlines
4. Delta Airlines
5. Air Canada
6. United Airlines
7. US Airways

Low-Cost Carriers
1. JetBlue Airways
2. Southwest Airlines
3. WestJet
4. AirTran Airways
5. Frontier Airlines

Source: J.D. Power and Associates 2010 North America Airline Satisfaction Study
Air travelers also seem to be -- gasp -- more accepting of fees or "unbundling the product" in airline lingo.
The findings suggest "there is some level of acceptance that things will be charged and passengers are adjusting their expectations and their behavior," Greif said.
Study results
Alaska Airlines ranked highest in overall satisfaction among traditional carriers for the third year in a row, followed by Continental and American. US Airways was at the bottom of the list.
Among low-cost carriers, JetBlue received the highest overall satisfaction scores for the fifth year in a row, followed by Southwest and WestJet. Frontier Airlines was ranked the lowest.
The highest-ranked airlines have found ways to show that they value their passengers' time and money, Greif said.
As an example, he cited Alaska's baggage guarantee, which gives passengers a $25 voucher or 2,500 bonus miles if their bags are not at baggage claim within 25 minutes of their plane parking at the gate.
JetBlue, meanwhile, impressed air travelers with its in-flight services and the condition of its aircraft, according to the survey results.
"JetBlue does a very good job. ... They lead not only the low-cost segment, but the industry overall," Greif said. "They have found a way to make a connection with passengers."
In other findings, passengers seem to be missing the days when they could expect free food on flights.
Almost two-thirds of those who fly on legacy carriers and more than half of those who choose low-cost carriers said a complimentary meal is the in-flight perk they would most like to have.
Almost half those surveyed say that prices for in-flight food, checked baggage and preferred seating are unreasonably high.
The study is based on responses from more than 12,300 passengers who flew on a major North American airline between April 2009 and April 2010.
They were asked to grade carriers in seven categories, including cost and fees; flight crew; in-flight services; aircraft; boarding/deplaning/baggage; check-in; and reservation.
FOLLOW THIS TOPIC