Second British Airways strike begins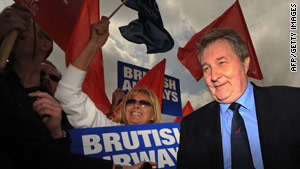 Joint general secretary of the Unite union, Derek Simpson, arrives to address striking British Airways cabin crew.
STORY HIGHLIGHTS
British Airways cabin crew begins second strike
Talks between BA and union failed Friday
Strike will last 5 days
BA says it will still operate most flights
London, England (CNN) -- A second five-day strike by British Airways cabin crew members started Sunday after talks between the union and the airline failed.
The two sides met Friday under the auspices of the Advisory, Conciliation and Arbitration Service (ACAS), but talks were adjourned without an agreement, ACAS said.
"ACAS will be in contact with both parties to arrange future talks," it said in a statement.
A five-day strike by the Unite union, which represents most of BA's 15,000 cabin crew members, ended at midnight (7 p.m. ET) Friday.
The strike, that began Sunday, is planned for five days. Another five-day strike will begin next Saturday.
The dispute centers on pay and working conditions for cabin crew.
"The cost to BA of ending the strike is nothing, as cabin crew have offered a pay cut," Unite said Friday. It said the strike so far has cost the airline £84 million ($121.4 million).
British Airways has said it has managed to fly more than half of its scheduled flights during the strike as a result of leasing planes and pilots, and putting passengers on other airlines.
Some union members also crossed picket lines and decided to work during the first strike, BA said, enabling the airline to expand its planned schedule for the second strike.
BA will operate more than 70 percent of its long-haul flights from its main hub at Heathrow airport this week, up from more than 60 percent last week, and more than 55 percent of its short-haul flights from Heathrow, up from more than 50 percent last week, it said.
All flights from Gatwick will operate as scheduled, the airline has said.
BA said it expects to fly more than 75 percent of its customers who already have reservations during the strike.
Talks last weekend appeared to center on the issue of travel perks, which can include free and heavily discounted travel for cabin crew.
BA Chief Executive Willie Walsh threatened to revoke the perks from any crew members who went on strike in March. Unite said Thursday that some 3,000 crew members lost their travel concessions as a result, and the union has said it wants the benefits reinstated.
CNN's Melissa Gray contributed to this report