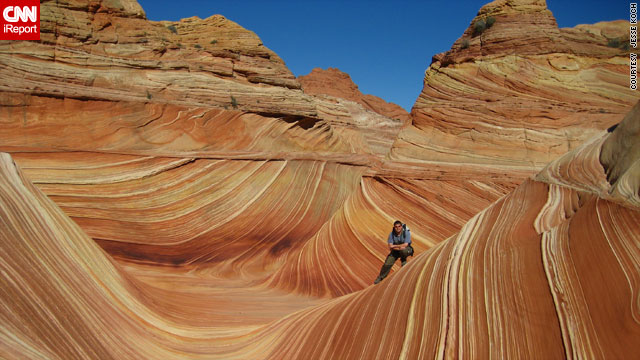 STORY HIGHLIGHTS
Hispanic advocacy group garners 2,500 pledges to avoid travel to Arizona
U.S. senator urges baseball players to boycott 2011 All-Star Game in Phoenix
Black fraternal organization moves convention out of Phoenix
Arizona tourism industry generated $18.6 billion in revenue in 2008
(CNN) -- Arizona's $18.6 billion travel industry could take a big hit if a boycott announced last week in response to a new immigration law gains momentum.
The boycott's biggest target: Major League Baseball's 2011 All-Star Game.
"We've been very encouraged by the response," said Clarissa Martinez, director of immigration and national campaigns for the National Council of La Raza, which announced the boycott Thursday.
Nearly 30 organizations have come on board, including the Rev. Al Sharpton's National Action Network, People for the American Way, the Japanese American Citizens League and the Service Employees International Union.
The law requires immigrants to carry their registration documents at all times and allows police to question individuals' immigration status in the process of enforcing any other law or ordinance.
Immigrants' surprising ally: conservative evangelicals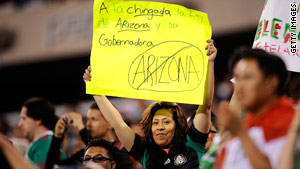 A fan hoists a protest sign during an international baseball tournament game Friday in New Jersey.
Direct travel spending of $18.6 billion in Arizona generated 167,000 jobs with earnings of $5 billion in 2008, according to a study by Dean Runyon Associates for the Arizona Office of Tourism.
That spending was associated with $1.4 billion in state and local tax revenues and $1.2 billion in federal tax revenues, equivalent to $1,080 per Arizona household.
The bulk of Arizona's tourism dollars are spent in and around the state's two largest cities, Phoenix and Tucson, with significant amounts also going to the Grand Canyon, Lake Havasu and fishing outfitters, horse ranches, spas and campgrounds.
NCLR is pressing Major League Baseball to move the 2011 All-Star Game out of Phoenix, she said.
"One of the things that's very significant is the Major League Baseball Players Association has weighed in on the issue," she said.
Michael Weiner, executive director of the MLBPA, issued a statement opposing the law shortly after it passed.

Video: Emilio Estefan calls for boycott of Ariz.
"We hope that the law is repealed or modified promptly," Weiner said. "If the current law goes into effect, the MLBPA will consider additional steps necessary to protect the rights and interests of our members."
On Monday, Sen. Robert Menendez, D-New Jersey, the lone Hispanic in the U.S. Senate, urged the players union to boycott the game. More than a quarter of major league players are Hispanic, he said in a letter to Weiner.
"These players come to the United States legally and should not be subjected to the humiliation and harassment that SB 1070 would inflict," Menendez wrote. "Imagine if your players and their families were subjected to interrogation by law enforcement, simply because they look a certain way."
Cop-watchers look out for profiling in Phoenix
The Arizona Office of Tourism referred questions to the Arizona Tourism Alliance, which did not respond to CNN's request for comment.
As of Tuesday, the NCLR was just more than halfway to its goal of 5,000 pledges to boycott Arizona as a travel destination.
The Washington Post reported Friday that 23 conferences, conventions and meetings had been canceled in response to the law, known as SB 1070.
Alpha Phi Alpha Fraternity moved its annual convention, scheduled for July 21-25, from Phoenix to Las Vegas, Nevada, in response to the new law.
"Our concern is that were bringing in a group of African-American men with a very diverse membership, and our membership includes some Hispanics, persons who are foreign, who have accents, persons who could possibly be singled out because they don't look like an 'American' African-American as such," said Skip Mason, national president of Alpha Phi Alpha. "So our big issue is safety and security of our members."
Calls to move the convention, with its 5,000 attendees and many of their families, as a protest against SB 1070 also had arisen from within the membership, Mason said. He noted that Arizona was the last state to institute a holiday honoring Dr. Martin Luther King Jr., who was an Alpha Phi Alpha member.
NCLR's Martinez said, "What we're dealing with is legitimate frustration over a broken immigration system that in this case has led to passing a law that is going to do little to solve the immigration problem but is unleashing the practice of racial profiling.
"We are fully committed to work with folks who are legitimately concerned with the problem to work toward a solution."