STORY HIGHLIGHTS
Airlines are required to address specific complaints within 60 days

Airlines can be penalized for "unrealistic scheduling"

Fliers must have "adequate food and potable water" during long tarmac delays

(CNN) -- You've heard passengers' horror stories about sitting for hours in a parked metal tube with crying babies, clogged toilets and rationed snacks.
The Department of Transportation hopes they will become faded memories for air travelers after new, more aggressive passenger protection rules go into effect Thursday.
The DOT's tarmac delay rule subjects airlines to stiff fines if passengers are stuck on the tarmac for more than three hours. It was prompted by a string of long delays dating back to December 2006, which DOT documents say caused passengers "undue discomfort and inconvenience."
The tipping point for DOT Secretary Ray LaHood came in August 2009, when 47 airline passengers were trapped overnight on a tarmac in Rochester, Minnesota.

Video: New rules limit time on grounded planes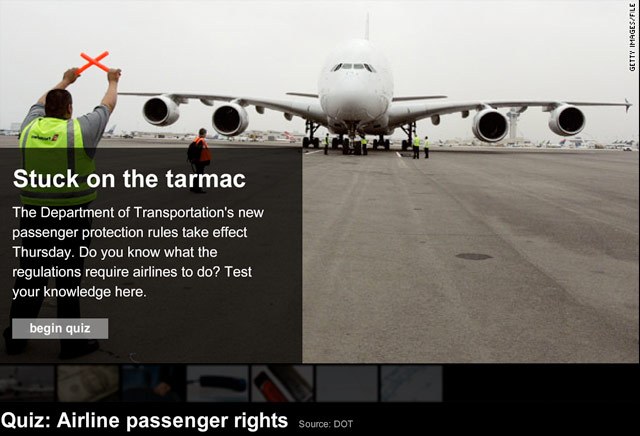 Test your knowledge
Passengers reported subsisting on rationed Pringles potato chips and said the toilet stopped working.
"There was no common sense used, no decency towards people that were sitting on a plane," LaHood said Tuesday at a news conference.
The tarmac delay rule has been widely discussed and debated since it was announced in December, but it is only one of a series of new DOT regulations designed to protect commercial airline passengers.
Here are a few more details travelers should know:
Expect a response to complaints to airlines
The DOT requires airlines to acknowledge a customer complaint within 30 days and provide a response within 60 days that addresses the specifics of that complaint.
Airlines must provide passengers with an e-mail address or online contact form, as well as a mailing address for filing complaints. The contact information must be available on carrier websites and e-ticket confirmations. Airlines don't have to listen to your complaints over the telephone.
International travelers may have to wait longer
The three-hour tarmac time limit applies only to domestic flights. On delayed international flights, the DOT will allow U.S. carriers to determine their own time limits. The airlines must define those limits and include them in tarmac delay contingency plans posted on their websites.The agency says that less frequent international service would mean more inconvenience to consumers should those flights be cancelled.
Airlines' tarmac delay contingency plans for all flights must assure passengers working restrooms and "adequate food and potable water" within two hours of leaving the gate or touching down. The DOT said snacks such as pretzels and granola bars would be considered adequate. The airlines are also required to provide medical attention, if needed.
Safety, security, air traffic exceptions may apply
Exceptions to the tarmac delay limits may apply if the pilot sees a safety or security issue with returning passengers to the terminal. The DOT cites weather, air traffic control or a government agency directive as possible issues.
Consumers who believe an airline is not complying with DOT rules should file a complaint through the aviation consumer website,
http://airconsumer.dot.gov
, by phone at 202-366-2220 or regular mail.
Mailing address:
Aviation Consumer Protection Division, U.S. Department of
Transportation C-75, W96-432, 1200 New Jersey Ave. SE,
Washington, DC 20590
Air traffic control may also override the rule if it determines that getting passengers off the plane would create a major disruption in airport operations.
Unrealistic scheduling and chronic delays prohibited
Large airlines can be penalized for unrealistic scheduling, which may include a frequently canceled flight or one that is considered "chronically delayed." The designation applies to flights that operate at least 10 times a month and arrive more than 30 minutes late more than half the time.
See the Bureau of Transportation Statistics' list of chronically delayed flights
Carriers with flights that are chronically delayed for more than four consecutive 30-day periods would be subject to penalties.
Beginning at the end of July, large airlines will have to provide flight delay information on their websites for all domestic flights early in the purchasing process.
"We were concerned that if we simply permitted carriers to display flight delay information at any stage before a consumer buys a ticket, it could result in passengers not having access to that information until just before they click the 'buy now' button," the DOT document explains.
Customer service and compliance required
The DOT also requires airlines to develop customer service plans to address situations not covered in their contracts with passengers. Airlines are expected to audit their compliance and report the results to the DOT.
How rules are enforced, penalties determined
Civil penalties of up to $27,500 per passenger would be paid to the government, not to passengers. That amount is the maximum civil penalty for large airlines for violating any aviation consumer rule.
DOT spokesman Bill Mosley told CNN in an e-mail that the department monitors airline compliance by reviewing consumer complaints and calls to the airline, and by making onsite visits.
"The Department's Aviation Enforcement Office considers a number of factors in determining the civil penalty it would seek," he said. Among those factors are the harm caused by the violations, the alleged violator's compliance record, economic conditions, ability to pay, how long the violations continued and the strength of the case.
For more information, search for docket dot-ost-2007-0022 on www.regulations.gov.