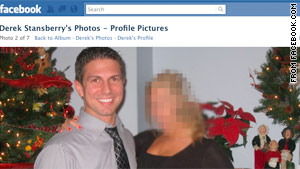 Derek Stansberry told air marshals on a Delta flight Tuesday that he had dynamite in his backpack.
STORY HIGHLIGHTS
Competency tests ordered for man who said he had dynamite in his backpack on airplane
Documents: Ex-Air Force intelligence specialist said he took eight tablets of Ambien
Stansberry, 27, faces charges of interfering with a flight crew, making threats
Delta flight en route from Paris, France, to Atlanta, Georgia, diverted to Maine
Bangor, Maine (CNN) -- A federal magistrate ordered a competency evaluation Wednesday for the former Air Force intelligence specialist accused of making false bomb threats Tuesday that diverted an international commercial flight.
U.S. Magistrate Judge Margaret J. Kravchuk ordered the evaluation at the request of the public defender representing Derek Stansberry at a short hearing in Bangor, Maine.
Federal investigators allege Stansberry told air marshals on a Delta flight Tuesday that he had dynamite in his backpack and explosives in his laptop, court documents released Wednesday say. The flight was diverted to Maine, where a police bomb squad found no explosives on board.
The federal complaint against Stansberry, 27, of Riverview, Florida, charges him with two felony counts of interfering with flight crew members and knowingly giving false information about possession of an explosive device.
"Making false bomb threats on an aircraft and interfering with the flight crew are serious crimes that have serious consequences," U.S. Attorney Paula D. Silsby said in a statement released Wednesday. "Today's charges should serve as a reminder that the federal government will not tolerate this activity. This case also highlights the extensive resources required to address threats that prove to be false -- resources that could be better utilized addressing real threats."
A flight attendant on Delta Air Lines Flight 273 -- which was traveling from Paris, France, to Atlanta, Georgia, Tuesday -- notified air marshals on board after Stansberry passed her a note stating that he was not an American citizen and had false documents, according to the complaint.

Video: The go-to airport for diverted flights

Video: Passengers tell their stories about flight scare
The complaint said statements in the note included, "My passports and identity are fake," "Please let my family know the truth" and "I was in Ouaga illegally."
"Ouaga" commonly refers to Ouagadougou, the capital of Burkina Faso in West Africa.
After the flight attendant handed the note to an air marshal on board, the affidavit says, another air marshal and a flight attendant moved Stansberry and his carry-on baggage to the back of the plane.
There, Stansberry told the air marshal that he had dynamite in his boots, which were in his backpack. He said a pressure switch would detonate the explosives, the affidavit said. He also claimed to have explosive material in his laptop and told the air marshal he had taken eight tablets of Ambien, a sleep aid, the court documents said.
Air marshals "built a bunker" around Stansberry's laptop and boots "to dampen the effects of any potential explosion," the complaint said.
After the diverted Airbus A330 landed in Bangor around 3:30 p.m. Tuesday, the Bangor Police bomb squad used bomb-sniffing dogs and explosive detection devices to search the plane and all the baggage, but no explosives were found, the affidavit says.
The FBI took Stansberry into custody when the plane landed, and he told investigators he had taken one Ambien pill, a change from his earlier comment to the air marshal, the court documents say.
Stansberry was on active duty in the U.S. Air Force from June 2005 to June 2009, Air Force officials said. A senior airman and an intelligence specialist, he trained at Goodfellow Air Force Base in San Angelo, Texas, and also was stationed at Hurlburt Field in Okaloosa County, Florida, they said. Stansberry also served in the wars in both Iraq and Afghanistan, according to service records.
Stansberry was employed in Burkina Faso under a U.S. Africa Command contract with defense contractor R4 Inc. as part of ongoing military-to-military cooperation activities between the two nations, according to a U.S. military source who asked not to be identified. But Stansberry has completed that temporary assignment, the source said.
Contacted by CNN at his home in Florida Tuesday, Richard Stansberry -- Derek Stansberry's father -- said his son had never been in trouble, and that his contractor job with the Air Force required him to stay out of trouble in order to keep his high security clearance. The elder Stansberry said he was not sure what happened on board the airplane, but hoped it was a misunderstanding.
Derek Stansberry was not flagged on any databases, law enforcement officials told CNN.
He will be evaluated for competency at the Penobscot County Jail, where he is being detained.
In his first court appearance Wednesday, he stood attentively next to his attorney and answered, "Yes, ma'am" a few times when asked whether he understood the charges against him and what was happening in the courtroom.
At one point, he asked the court, "Is there where I admit I'm guilty or not?"
Kravchuk, the federal magistrate, responded, "No."
The government has filed a motion to keep Stansberry in custody because of the nature of his threats and the fear that he may flee if released, court documents show.
Kravchuk ordered that Stansberry be temporarily detained without bail. His next scheduled court appearance is May 3.
Passengers aboard the plane told CNN they were unaware of any disruption, but that the flight crew moved all the passengers forward in the partially filled cabin.
"I just felt like something was a little strange. You can just see in the flight attendants' faces that they were bothered by something, but ultimately I think they handled the situation really good," said Charde Houston of San Diego, California. "They didn't make anybody rattled. They could have but they didn't."
Delta put passengers in a hotel overnight Tuesday, providing them with a meal and vouchers for future travel. They were expected to leave for their destination in the same plane around 2 p.m. Wednesday afternoon, Delta Air Lines spokeswoman Susan Elliott told CNN.
CNN's Susan Candiotti, Bob Crowley, Terry Frieden, Kristen Hamill, Jeanne Meserve, Mike Mount and Barbara Starr contributed to this report.