FAA calls for crackdown on cockpit distractions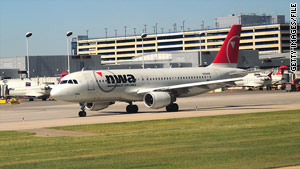 Northwest Airlines pilots distracted by laptop computers overflew their destination in 2009.
STORY HIGHLIGHTS
FAA's guidance notes that any cockpit distraction can be a safety risk

Northwest pilots overflew destination in 2009 while distracted by laptop computers

Laptops may be used only to assist in safely operating aircraft, FAA says

Washington (CNN) -- Airlines should create and enforce policies to ensure that pilots focus on flying their planes safely instead of being distracted by laptop computers and other devices, the Department of Transportation's Federal Aviation Administration said Monday.
The statement referred to the incident in October when pilots of Northwest Airlines Flight 188 overflew their destination by 150 miles because they were using laptop computers for personal activities.
Northwest has a policy prohibiting pilots from using their laptops in the cockpit, and the pilots in the October incident had their licenses revoked. An FAA settlement with the two pilots allows them to reapply for their licenses as soon as August 29.
In its Information for Operators guidance, the FAA notes that any cockpit distraction can be a safety risk, including the use of personal electronic devices for non-flight activities.
"Every aviation professional needs to take the issue of distractions in the cockpit seriously," FAA Administrator Randy Babbitt said in the document.
"And when there are two or more professionals on the flight deck, they must hold each other to the highest safety standards. Allowing distractions is unacceptable."
The FAA's Sterile Cockpit Rule prohibits pilots from engaging in any type of distracting behavior during critical phases of flight, including takeoff and landing.
In the guidance announced Monday, the FAA asks airlines to create a "safety culture" in the cockpit through crew training programs.
Although laptop computers and other electronic devices are becoming valuable tools for pilots in their routine duties, "they must only be used in the cockpit if they assist pilots in safely operating an aircraft," the document said.
On October 21, Capt. Timothy B. Cheney and First Officer Richard I. Cole flew their Northwest jet past their destination city of Minneapolis, Minnesota.
They told investigators they used personal laptop computers during the flight, in violation of company policy, and lost track of time. They became aware of their plane's position only after a flight attendant asked about the landing time.
The Airbus A320 was flying at 37,000 feet over the Denver, Colorado, area at 5:56 p.m. when air traffic controllers lost radio contact for more than an hour, the National Transportation Safety Board said in a report.
Northwest Flight 188 had departed San Diego, California, en route to Minnesota carrying 144 passengers, the two pilots and three flight attendants.
Cheney was hired in 1985 and has more than 20,000 hours flight time, while Cole was hired in 1997 and has about 11,000 hours of flight time, the NTSB report said.