Disruptive plane passenger taken into custody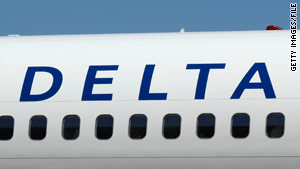 Delta was grateful to passengers for assisting the crew in restraining a passenger, an airline spokeswoman says.
STORY HIGHLIGHTS
Complaint: Man sprayed passengers with water, shouted "get behind me Satan"

Unruly passenger on Delta domestic flight was subdued and taken into custody

At flight crew members' request, the plane was diverted to Albuquerque, New Mexico

Report: Man allegedly made threats, damaged bathroom and attempted to enter flight deck

(CNN) -- A Delta Air Lines flight was rerouted Friday morning after a passenger threatened to blow up the plane, screamed "get behind me Satan" and sprayed passengers with water from a beverage-cart bottle, according to a complaint filed in federal court.
Flight attendants and other passengers on Delta Flight 2148 struggled to restrain the "erratic and dangerous" passenger with seat belts and plastic handcuffs while pilots rerouted the plane to Albuquerque, New Mexico, FBI Special Agent Benedict R. Bourgeois said.
The plane, which was flying from Los Angeles, California, to Tampa, Florida, landed in Albuquerque at 3:37 a.m. ET, the Transportation Security Administration said.
The passenger, Stanley Dwayne Sheffield, was taken into custody shortly afterward.
Law enforcement swept the plane and found nothing suspicious, TSA said. The flight landed in Tampa at about 9:20 a.m. ET, more than three hours after its scheduled arrival.
The complaint said Sheffield, 46, was heading back to his first-class seat from the plane's bathroom when he grabbed a 2-liter water bottle from a drink cart, began spraying passengers and shouted "get behind me Satan."
The complaint said that after a flight attendant asked him to return to his seat Sheffield threatened: "I am going to bring this plane down. ... You need to land this plane or I'm going to blow it up [and] I will blow up this plane and take you all with me."
Passengers "engaged Sheffield in a struggle and restrained him" when he approached the cockpit door, the complaint said.
CNN affiliate KRQE-TV in Albuquerque reported the passenger was a 46-year-old man who allegedly made threats, damaged a bathroom and attempted to enter the flight deck when seven passengers restrained him.
The man was treated for minor injuries he sustained during the struggle and later was turned over to the FBI, the report said.
The TV station reported that the FBI didn't believe the incident was terrorism-related but didn't know if drugs or alcohol were involved.
Delta spokeswoman Susan Elliott said the airline was grateful to passengers for assisting the crew.
The incident comes a day after federal agents removed "a potential person of interest" from a Delta flight during a fuel stop in Puerto Rico, U.S. Customs and Border Protection said. The passenger was taken into custody for questioning.
Delta said the flight was en route from Dakar, Senegal, to New York and continued to New York after the passenger was removed. Law enforcement sources said the passenger is Gambian.
Neither Delta nor the agency provided further details.
A law enforcement source said the passenger did not pose any kind of security threat. He came under suspicion because someone made a false accusation against him, the source said.