Ryanair will limit passenger compensation
STORY HIGHLIGHTS
Ryanair indicates it may not reimburse stranded passengers for costs in ash crisis
EU official reminds passengers that airlines are responsible for their care
Britain's Liberal Democrats criticized Ryanair's announcement
London, England (CNN) -- One of Europe's largest budget airlines indicated Wednesday it might not reimburse passengers for costs incurred while they were stranded by the volcanic ash cloud -- a potential violation of European Union rules.
Ryanair will "consider all passenger receipts for reimbursement of reasonable receipted expenses over the past week," Ryanair chief executive Michael O'Leary said in a statement. But, he added, reimbursement "will be limited ... to the original fare paid by each passenger."
The European Union's top official for transport reminded passengers on Monday that airlines were responsible for taking care of them while they were stranded. They have "the right to care -- that means food, drink, and accommodation as appropriate," European Commissioner Siim Kallas said.
"Despite these exceptional circumstances, air passengers are entitled to all their usual rights, except the additional financial compensation that would apply in more normal circumstances," he said.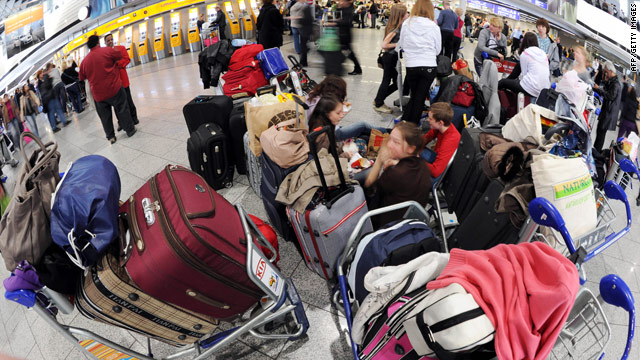 Video: Heathrow returns to normal
Britain's Liberal Democrats immediately criticized Ryanair's announcement as "outrageous" and "blatant defiance of EU consumer rules." "This is shocking behavior and rubs salt into the wounds for those who have been stranded overseas," the party's transport spokesman Norman Baker said.
The United Kingdom is in the middle of a general election campaign that will determine if Prime Minister Gordon Brown of the Labour party will keep his job. The Liberal Democrats, the smallest of the three national parties, have been riding high in the polls, rattling David Cameron's Conservatives as well as Labour. Neither Labour nor the Conservatives immediately responded to CNN request for comment on the Ryanair statement.
Airports across Europe began reopening Wednesday, six days after ash from an Icelandic volcano forced the shutdown of airspace and stranded thousands of passengers around the world.
Latest air travel developments
The airspace over most of the United Kingdom, Norway, Belgium, Ireland and Germany was open again, and Danish, Swedish and Finnish airspace was expected to reopen fully later in the day, air traffic authorities said.
French authorities said all long-haul flights were leaving from Paris airports, along with 60 percent of short-haul flights.

Part of complete coverage on

The current travel chaos is not the first time an Icelandic volcano has impacted the world, explains a scientist.

Here are some common questions and answers about the ash cloud crisis.

Aviation safety officials in Europe defend the closure of parts of the continent's airspace for six days.

However you pronounce it, Eyjafjallajokull is proving difficult for the world's English speakers.


Most popular stories right now