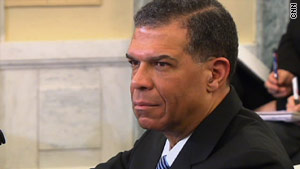 Robert Harding testified before the Senate Commerce Committee Tuesday.
STORY HIGHLIGHTS
TSA nominee would push for screeners to have more engagement with passengers
Change would move airport security force toward the Israeli mode of training
Full-body scanners "the best technology that we have right now," nominee said
Washington (CNN) -- President Obama's nominee to head the Transportation Security Administration told Congress on Tuesday he wants U.S. airport security to more closely resemble security at Israeli airports, where officers engage travelers in conversations and questions to determine whether they are a threat to aircraft.
"We should move even closer to an Israeli model where there's more engagement with passengers," Robert Harding told members of the Senate Commerce Committee.
Harding, a retired Army major general, said U.S. airport screeners take a one-week course in engaging passengers, and about 2,000 specially trained "behavior detection officers" roam airports looking for suspicious behavior.
"We've just started to do that at TSA," he said, adding, "It's not at the same level being done in Israel."
"I would look forward to working with my 48,000 (screeners) and ensuring that their training goes even further than where we are presently in 'engage' and move toward the Israeli model of training and drilling. And I think you would see a change very fast," he said.
The Israeli system, marked by its aggressive questioning of passengers, is praised by many security experts as one of the most secure in the world. But it also is criticized by some civil rights and privacy advocates because Israeli officials profile passengers, ask intrusive questions and sometimes prevent people from flying.
At Tuesday's confirmation hearing, shortened so senators could attend the president's health care bill signing ceremony, Harding endorsed the use of full-body imagers at airports.
Concerning full-body imagers -- machines that can see through travelers' clothes -- Harding called them "the best technology that we have right now." He said the privacy concerns he had were addressed during a recent inspection of the machines at Reagan National Airport near Washington.
Harding said he visited a viewing booth where screeners view the ghost-like images of travelers.
"As I entered the booth, my phone was taken away from me. I tested that to see whether or not someone was conscious enough to say, 'This is something that can't be taken into the booth,' and it was taken away," he said.
Phones are banned to prevent booth occupants from taking photos of images on the monitors.
Harding said he watched as the security officer in the booth observed an object on a female passenger's leg. The booth officer communicated with the checkpoint officer who found "it was something in her pocket that was subsequently removed," he said.
Harding said he also asked whether screeners could store computer images and was told they could not.
"I'm not a cyber expert, but I could tell from the way that the computer was configured that there was no storage," he said.
Finally, Harding said, he was told he could not leave the booth until the woman had left the area, in accordance with the security agency's policy intended to protect passengers' privacy.
Harding deferred questions about whether he supports unionization of airport screeners.
Harding said that if he is confirmed, he will conduct an in-depth review and consult with screeners and others before making a recommendation to Homeland Security Secretary Janet Napolitano on unionizing the work force.
But he would not "bargain away security," he said, saying any changes would have to allow the Transportation Security Administration the ability to rapidly change workers' hours to address terrorist threats or attacks.
Obama supported unionization during his presidential campaign.
Harding said his 33 years in the U.S. Army -- most of it in intelligence capacities -- would serve him well as the agency's administrator. After leaving the military, Harding in 2003 founded Harding Security Associates, a defense and intelligence contracting business that he sold last year.
Harding said he would "go up and above what normally would be expected of a nominee," not only recusing himself from any dealings with his former company for one year following its sale, but recusing himself from dealing with any company that Harding Security Associates does business with for that same time frame.
Harding is scheduled to appear Wednesday before the Senate Homeland Security and Governmental Affairs Committee for a second confirmation hearing.