FAA proposes $1.45 million fine against Northwest Airlines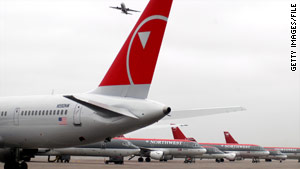 Northwest Airlines violated an airworthiness directive, the FAA said.
STORY HIGHLIGHTS
FAA: Northwest Airlines violated "airworthiness directive" for Boeing 757s

Windshield wiring inspections were omitted from maintenance instructions

32 planes flew more than 90,000 flights without inspections, FAA says
(CNN) -- Federal aviation regulators said Tuesday they are proposing a $1.45 million civil penalty against Northwest Airlines for operating nearly three dozen of its Boeing 757 planes without proper windshield wiring inspections.
A Federal Aviation Administration "airworthiness directive" for Boeing 757s requires inspections -- and replacements if needed -- for small wires in the heating system for both the captain and first officer's windows, the FAA said.
"Left uncorrected, the problem could cause overheating, smoking and possibly a fire," the FAA said. The directive was enacted in 1990.
Northwest Airlines' maintenance instructions for its mechanics did not include the directive for the first officer's window, the FAA said.
"As a result, 32 of the carrier's 757s flew more than 90,000 passenger flights between December 1, 2005, and May 27, 2008, while not in compliance with the airworthiness directive."
Northwest discovered the problem in May 2008 and revised its maintenance instructions, the FAA said. "However, the instructions did not require the work be performed before further flight, but at the next planned overnight layover."
As a result, the FAA said, 29 of the 32 planes flew while they were still "out of compliance" with the directive.
"After discovering that the NW757 fleet was not compliant, NW immediately conducted the necessary inspections," said Delta Air Lines, whose merger with Northwest Airlines was finalized last year. Earlier this year, Northwest renamed all its flights under Delta.
"No wiring defects were found and the aircraft were immediately returned to service," Delta said. "The safety and security of our passengers and crew is Delta's highest core value."
The airline has 30 days to respond to the FAA's civil penalty letter.