Paperless boarding takes off at United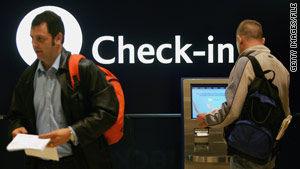 More airlines are offering travelers the opportunity to avoid kiosks and paper boarding passes.
STORY HIGHLIGHTS
United becomes latest airline to offer mobile boarding passes for customers
American Airlines expands mobile boarding pass program to 19 more airports
Passengers receive barcode that is displayed on smartphones
Barcode can be scanned at security and during boarding
(CNN) -- More air travelers may soon be scanning their smartphones instead of paper slips at airport gates.
United has become the latest airline to offer mobile boarding passes for customers equipped with Web-enabled mobile phones or devices, such as iPhones or BlackBerrys.
United passengers traveling within the United States, Puerto Rico or the U.S. Virgin Islands can now log on to mobile.united.com to check in for their flights via their smartphones.
Those departing from eight U.S. airports, including Chicago's O'Hare International and Dallas-Fort Worth International in Texas, can also receive an e-mail with an encrypted two-dimensional barcode that stores their flight, seat assignment and gate information.
Once at the airport, passengers can scan the barcode, which is displayed on the screen of the mobile device, at security and during boarding.
(The Transportation Security Administration still requires them to show photo identification so officers can match the name on the boarding pass to the ID.)
Mobile boarding passes can also be refreshed to display new information if there is a seat or gate change.
The TSA likes them because of their improved security.
"The paperless boarding pass will ... prevent fraudulent paper boarding passes that could be created and printed from home," the agency wrote on its blog.
Meanwhile, American Airlines has announced that it is expanding its mobile boarding pass program to 19 more airports, bringing the total up to 27. The additions include Washington Dulles International, New York La Guardia and San Francisco International.
The carrier began offering mobile boarding passes in 2008, calling them a way to make travel as easy and convenient as possible.
"This is a great alternative for our customers on the go," said Andrew Watson, American's vice president for customer technology, in a statement.
The program will be extended to even more U.S. airports in the coming months, American said.
Continental, Delta and Alaska Airlines also offer mobile boarding passes to their customers.