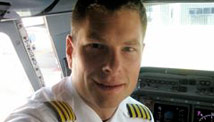 STORY HIGHLIGHTS
More flights in busy season likely to mean more delays, pilot says

John F. Kennedy airport runway closure will add to congestion

Airport sees a high number of large aircraft that require more space between planes

Windy conditions could temporarily close 2 of the airport's 3 remaining runways

Editor's note: Daniel Fahl is a captain for a major U.S. airline. He has been a pilot for 10 years.
(CNN) -- As the relatively dormant air travel season ends, the ramp-up of airline service to accommodate the demand of spring and summer travelers begins. This is good news for most, as more flights are added, providing more options for travelers. But as many frequent fliers know, more flights can mean more delays.
Just like freeways get backed up during rush hour and the holidays, so do the runways and airborne highways that aircraft navigate. You may experience the effects of high demand for finite airspace through a ground delay program, when air traffic control prevents a flight from departing on time because of congested airspace.
As if these frustrating delays were not enough, for the next four months, New York's John F. Kennedy International Airport will be struggling harder than most to keep traffic moving, because the longest of its four runways closed March 1 for construction.
The runway is being widened to accommodate larger aircraft, and the old asphalt surface is being replaced with longer-lasting concrete. You may ask why such a project is beginning at the dawn of peak travel season; the answer lies in the weather. To finish the project as quickly as possible, the driest season was chosen so there would be fewer construction delays.
Because of the construction, some airlines at JFK recently applied for an exemption to a nationwide rule that will require airlines with planes sitting on the tarmac for more than three hours to return passengers to gates or face steep fines. The rule will take effect at the end of April.
An exemption in this case would seem realistic, given that JFK is operating under unique and temporary circumstances. In a dynamic weather situation, the ability of an aircraft to leave the gate and taxi to the runway could be unpredictably delayed because of many circumstances.
Either way, when a major airport loses a main runway, you can expect delays. JFK is particularly challenged under these circumstances, considering the high concentration of large aircraft that arrive and depart its runways. Large aircraft, such as those that fly overseas, are required to be spaced farther from other aircraft because of the wake turbulence they produce.
Wake turbulence, similar to the wake a boat creates, poses a safety threat to trailing aircraft. Because of this, there is a longer delay between departing and arriving aircraft when one of these large, or as we say "heavy," aircraft enters the picture. With only three runways available, this adds to the headache of keeping traffic flowing.
Also, the available runways can quickly be diminished to one usable runway when winds pick up. The direction and strength of the wind is the largest factor when deciding which runways are used for takeoffs and landings. Aircraft are required to take off and land into the wind, as opposed to having a tailwind.
JFK's remaining three runways are oriented such that two of them are facing approximately east and west, while the other one is facing north and south. If the wind conditions on a particular day favor landing to the north, the two runways facing east and west cannot be used. There are some exceptions to this rule, but the point is, delays could be substantial in this situation.
With a majority of arrivals and departures competing for one available runway in this case, your flight from to or from JFK could experience a ground delay.
The airlines have planned for the traffic backup this spring at JFK by reducing the number of flights, and some airlines have adjusted their schedules to work around peak hours of demand.
This reduction in flights, although a necessary evil, will not only put a strain on your schedule, but on your wallet as well. It's the law of supply and demand -- fewer available flights when demand is high equals higher ticket prices.