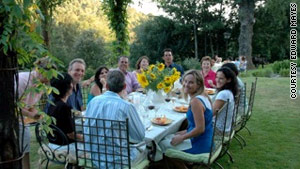 Friends and family gather for a meal at Bramasole, Frances Mayes' house in Tuscany.
STORY HIGHLIGHTS
Recipe is one of 25 featured in new book about Tuscany by Frances Mayes
Mayes is also author of "Under the Tuscan Sun," a huge bestseller
Her new volume is part memoir, part travel guide, part cook book
Editor's Note: Below is a recipe from Frances Mayes' new book, "Every Day in Tuscany: Seasons of an Italian Life." She writes that she has served this dish "a hundred times" at casual suppers.
Pasta al Forno con Salsicce e Quattro Formaggi
(Baked Pasta with Sausage and Four Cheeses)
Serves 6
• Olive oil
• 1 onion, minced
• 1 carrot, minced
• 2 ribs celery, minced
• 3 garlic cloves, minced
• Salt for seasoning
• ½ pound sweet Italian sausage, casings removed, meat cut into small pieces
• ½ pound spicy Italian sausage, casings removed, meat cut into small pieces
• ½ cup red wine
• 4 or 5 sprigs of oregano, leaves torn
• 1 28-ounce can of whole tomatoes, chopped
• 1 pound dried rigatoni
• 1 cup ricotta
• ½ pound Fontina or Taleggio, cubed
• ½ pound mozzarella, cubed
• ½ cup parmigiano
• ½ cup bread crumbs
Preheat the oven to 375 degrees F.
Bring a stockpot of water to the boil.
In a large pan, heat 2 tablespoons of oil. Sauté the onion, carrot, celery and garlic on low heat for 5 minutes. Season with salt. Add the sausage to the pan, cooking until browned, about 10 minutes. Add the red wine, turn the heat up to boil and cook until most of the liquid has evaporated. Add the oregano and the tomatoes along with their juices and continue cooking for at least 10 minutes.
When the water in the stockpot has come to a boil, salt it and add the rigatoni. Cook a minute or two less than the time required on the package (since it will continue cooking in the oven), then drain, reserving a bit of pasta water.
In a large bowl, mix the ricotta with the Fontina and a splash of the pasta water, then add the drained rigatoni and continue mixing. Add the sausage mixture. Add the mozzarella to the bowl and mix well, then pour into an oiled 8- by 13-inch baking dish, sprinkling grated parmigiano and bread crumbs on top.
Bake uncovered for 20 to 25 minutes, and serve hot.
Variation: For the ingredients listed before the cheeses, you can substitute 2 cups of homemade ragù.
Excerpted from "Every Day in Tuscany: Seasons of an Italian Life" by Frances Mayes, Copyright 2010 by Broadway Books. Reprinted by Permission of Broadway Books, an imprint of the Crown Publishing Group, a division of Random House Inc., New York.