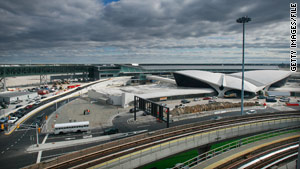 A runway overhaul and new rule on tarmac delays at John F. Kennedy International Airport are part of an air traffic debate.
STORY HIGHLIGHTS
Runway closure, rule on tarmac delays and possible exemptions likely to snarl air traffic

JetBlue, Delta seek exemptions at JFK to a three-hour delay rule going into effect in April

Airlines: Bad weather, runway closure, threat of fines would mean more hassle for fliers

Air traffic controllers: Waiver could cause flight delays at other New York airports

(CNN) -- Flying in and out of New York -- which is usually no picnic -- is likely to get worse this spring and summer. A new nationwide rule on tarmac delays, possible exemptions to that rule and a runway closure may create a perfect storm for air travelers when bad weather is added to the mix.
A major overhaul that will close one of the nation's longest runways at John F. Kennedy International Airport has prompted JetBlue Airways and Delta Air Lines to ask for a temporary exemption at JFK to a rule designed to keep planeloads of passengers from getting stranded on the tarmac.
American Airlines is reviewing the other carriers' requests to decide whether it will take similar action, spokesman Tim Smith said.
The U.S. Department of Transportation regulation, set to go into effect April 29, would slap hefty fines on airlines with domestic flights that sit on the tarmac for more than three hours with passengers on board. Airlines could pay $27,500 per passenger for violations.
Airlines have voiced objections to the three-hour rule since it was announced in December, saying a strict time limit reduces carriers' ability to mitigate delays as circumstances change. When a plane returns to the gate, the flight has to get in line again for takeoff.
Air passenger consumer protection advocate Kate Hanni this week urged the DOT to reject requests for exemptions to the three-hour rule at JFK.
"The fact that the airlines are already working actively to find loopholes and excuses to avoid compliance with new consumer protections before the regulations even go into effect demonstrates their continued hostility to consumers and new laws and policies designed to protect them," Hanni said in a statement Tuesday.
Hanni, founder of Flyers Rights, a nonprofit airline consumer group, said airlines were overscheduling in busy time slots at JFK before the runway closed on March 1.
Last year about 20 percent of JFK's flights were delayed, according to figures compiled by the Bureau of Transportation Statistics.
Without an exemption to the rule at JFK, where carriers already are trimming schedules by about 10 percent to deal with the four-month shutdown of the airport's Bay Runway, airlines are likely to cancel more flights to avoid fines when delays loom large.
"You can't get a fine if you don't fly the flight," said John Hansman, director of the International Center for Air Transportation at MIT.
Hansman said the requests for waivers at JFK make sense, considering airlines would be juggling operations modified by the runway closure with the threat of fines.
"I think it's a reasonable request to say, 'We're willing to do one thing or another, but it's hard to do both at the same time,' " Hansman said.
JetBlue said the rule designed to protect consumers will do the opposite at JFK, causing "undue stress on customers."
In cases of delays of more than three hours "likely due to heavy winds impairing two of the available runways at JFK, airlines will be forced to return customers to the gate in great number and this will result in thousands of customers grounded with their flights canceled," said JetBlue spokesman Mateo Lleras via e-mail.
Delta spokesman Anthony Black said even with the runway closure long tarmac delays on a day-to-day basis are unlikely at JFK, but bad weather adds an unpredictable layer of complication.
"Obviously, weather is the overwhelming factor with respect to when you have three-hour delays," Black said.
Continental Airlines CEO Jeff Smisek, speaking generally about the nationwide rule at an investor conference Tuesday, said Continental will cancel flights to avoid the stiff penalties, according to a webcast from the conference.
If Delta and JetBlue are granted a JFK waiver, delays may increase at other New York-area airports, including LaGuardia and Newark's Liberty International, according to the National Air Traffic Controllers Association.
The group's spokesman, Doug Church, said Federal Aviation Administration controllers in New York could try to accommodate long-delayed flights by allowing more departures at JFK, where the planes would not have to return to gates to comply with the time limit.
"If they're getting more airplanes off of JFK to try to accommodate those folks, that means somebody else has their spot sort of taken in the air," Church said.
The new time-limit rule, and the possible exemptions at JFK, will create many difficult air traffic decisions when "push comes to shove" about who gets priority, he said.
The workload for air traffic controllers will increase tremendously when the time limit goes into effect in April, Church said.
"When you're working at a major airport from the control tower and traffic is sequenced, it really is difficult to take an aircraft out of line as they're waiting to taxi to the runway and return them to the gate."