Delta, JetBlue request exemption to tarmac delay rule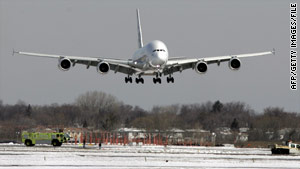 A runway closure at John F. Kennedy International Airport may mean more flight delays.
STORY HIGHLIGHTS
JetBlue, Delta ask for exemption at JFK to new tarmac delay limit

Rule will impose fines on airlines with flights that sit on tarmac for more than three hours

Major runway closure at JFK prompted requests
(CNN) -- A runway closure at John F. Kennedy International Airport has prompted JetBlue Airways and Delta Air Lines to ask for a temporary exemption at JFK to a rule designed to keep planeloads of passengers from getting stranded on the tarmac.
American Airlines is reviewing the requests of the other carriers to decide whether it will take similar action, spokesman Tim Smith said.
The Department of Transportation regulation, set to go into effect on April 29, would slap hefty fines on airlines with flights that sit on the tarmac for more than three hours with passengers on board on domestic routes. Airlines could pay $27,500 per passenger for violations.
JFK's Bay Runway, one of the nation's longest, will be closed until July for major reconstruction. The runway won't return to full service until November, Delta spokesman Anthony Black said.
Delta and JetBlue have reduced their operations by 10 percent during the busy spring and summer travel season to alleviate congestion caused by the runway closure.
"Due to the unforeseen nature and unpredictable operating environment this closure could potentially create, the DOT three-hour rule could have unintended consequences and result in harming consumers rather than protecting their interests," JetBlue said in a statement.
Poor weather conditions resulting in delays of more than three hours would force airlines "to return customers to the gate in great number and this will result in thousands of customers grounded with their flights cancelled," said JetBlue spokesman Mateo Lleras.
"Since the intention of the rule is, as its name states it, enhancing passenger protection, this would result in the opposite and cause undue stress on customers," Lleras said.