US Airways fined for fare price advertising violation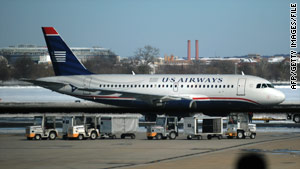 US Airways attributed the pricing omission to a programming error.
STORY HIGHLIGHTS
US Airways fined $40,000 for price advertising violation on its Web site

The airline failed to alert consumers to fees and taxes on first display of fare quotes

Legal documents show airline attributes violation to an "inadvertent programming error"

(CNN) -- The Department of Transportation slapped US Airways with a $40,000 civil penalty Monday for violating price advertising rules.
"When consumers shop for air travel, they have a right to know how much they will have to pay," said U.S. Transportation Secretary Ray LaHood in a statement. "We will continue to ensure that airlines comply with our price advertising rules."
The carrier posted one-way fares on its Web site for a short time without indicating that additional fees and taxes would apply, violating a rule that requires clear disclosure of the existence of those charges on the first screen where fares are quoted, according to the Department of Transportation.
US Airways declined to make a statement, referring instead to the DOT's legal document, which reads "US Airways states that it is strongly committed to promoting its fares and services in a clear and readily comprehensible manner, and that it has cooperated fully with the Department in this matter."
The document also states that US Airways said the omission of the pricing information was "wholly unintentional and the result of an inadvertent programming error."
Earlier this year, United Airlines was fined $30,000 for violating the same full-fare advertisement requirement.