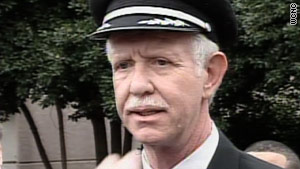 Captain Chesley "Sully" Sullenberger piloted his last flight for US Airways on Wednesday.
STORY HIGHLIGHTS
NEW: Sullenberger says he will continue to be advocate for profession

Emergency water landing made heroes of US Airways Flight 1549 crew

Captain Chesley "Sully" Sullenberger retiring from airline after nearly 30 years

Flight 1549 attendant Doreen Welsh retiring after 39 years with airline

(CNN) -- Captain Chesley "Sully" Sullenberger, the pilot who landed a disabled passenger plane on New York's Hudson River in 2009, piloted his last flight for US Airways on Wednesday.
Sullenberger, 59, has retired from the company he joined in 1980.
"I have been fortunate to have followed my passion for most of my life, working in a profession I dearly love, side by side with thousands of wonderful colleagues, including the man flying my final flight with me, Jeff Skiles," Sullenberger said in a statement, referencing the first officer who participated in the emergency landing.
Flight attendant Doreen Welsh, who helped keep all 150 passengers aboard Flight 1549 safe during the emergency, also will retire after 39 years with the airline. She is also 59.
"I am extremely proud of Captain Sullenberger and Doreen for their quick thinking and courageous actions on January 15, 2009," said Doug Parker, US Airways' chairman and CEO.

Video: Sully's final flight
"They exemplify the professionalism and training US Airways' more than 10,000 pilots and flight attendants demonstrate thousands of times every day across our airline," he said.
Birds that were sucked into the engines of Flight 1549 forced Sullenberger and Skiles to "ditch" the plane, or make an emergency water landing.
The complicated maneuver, which was called an "amazing piece of airmanship" by a former National Transportation Safety Board director, resulted in only a few minor injuries and made heroes of the crew.
Sullenberger took time off to write a book and speak about aviation issues before returning to the cockpit in the fall. He also joined the airline's flight operations safety management team in September.
After his last flight from Fort Lauderdale, Florida, to Charlotte, North Carolina, on Wednesday, Sullenberger said he was "chosen by circumstance" to be a spokesman for the aviation industry and plans to work independently in that role.
"I'm going to continue to be the same kind of advocate for the profession and for aviation safety I've been for decades, but there are some issues of particular importance right now," he said.
Pilot experience requirements and pilot fatigue are among his chief concerns, he said. Outdated regulations and regional carriers that compete on the basis of cost, consequently hiring less experienced pilots, contribute to the profession's problems.
"Each generation of pilots hopes that they will leave their profession better off than they found it. In spite of the best efforts of thousands of my colleagues, that is not the case today," Sullenberger said in his written statement.
Sullenberger leaves his profession in worse shape than when he started "by any measure," he said.
CNN's Kristen Hamill contributed to this report.