STORY HIGHLIGHTS
Modern lovers discover beauty of Niagara Falls and have fun with its retro image
"The Office" wedding episode had characters exchanging vows on the Maid of the Mist
"We just had a ball," one recent honeymooner says of her experience at Niagara Falls
Retro honeymoons are hot right now, the wedding Web site TheKnot.com finds
(CNN) -- Amy and David Wieller got married right around the time one of television's favorite onscreen couples did, but they have something else in common with Jim and Pam from "The Office": They had a great time celebrating their love at Niagara Falls.
Often considered a cliché -- the region was made so popular by hordes of newlyweds in the 1950s and '60s that it proclaimed itself the "honeymoon capital of the world" -- Niagara Falls is getting a fresh look from modern lovers discovering its beauty and having fun with its retro image.
"We just had a ball," said Amy Wieller, recalling her Niagara honeymoon last September. "You kind of feel like a kid when you're back there... [and] that view -- you can't not be romantic there."
Wieller, 28, and her husband, 29, who live in Leesburg, Virginia, liked that they didn't have to buy plane tickets to their honeymoon destination, and they splurged on a 25th floor hotel room on the Canadian side of the falls, which gave them a panoramic view.
See photos from the Wiellers' honeymoon
They were impressed by the local wine region and had fun exploring what some consider the tackier side of Niagara tourism -- the Clifton Hill area, home to attractions like a Ferris wheel, a wax museum and a haunted house.
• Aaron Burr's daughter spent her honeymoon in Niagara Falls in the early 1800s

• Napoleon's brother followed a few years later

• Niagara's beauty and proximity to major cities, including New York, Cleveland and Pittsburgh, began to draw honeymooners

• Marilyn Monroe brought new attention to the region while filming the 1953 movie "Niagara"

• Legend has it that when the water falls over the rocks, the resulting mist generates negative ions, which create feelings of love

Sources: Niagara Falls Tourism, Niagara Tourism & Convention Corporation, Niagara Falls State Park
"That part of it is cheesy, but it's what you make of it. I like that stuff," Amy Wieller said. "But if you don't like that, you can just stay in the more classic part."
Romantic, 'kitschy' and fun
Niagara Falls is definitely big again for lovers, part of a recent trend of retro honeymoons that also include destinations like Palm Springs, California, and the Poconos in Pennsylvania, said Rebecca Dolgin, executive editor of TheKnot.com. The wedding Web site lists Niagara Falls as one of its 19 U.S. and Canadian honeymoon hot spots.
"It's sort of kitschy and it's fun, and it's for couples who maybe don't take it too seriously," Dolgin said. "I don't think anyone is going to come back from Niagara being disappointed. You know when you go there what you're getting into, it's the same kind of thing with Las Vegas."
More people are staying stateside for their honeymoons, either because they're watching their budgets or are worried about their jobs and trying to take less time off work, Dolgin said. For them, Niagara Falls is appealing because it's close to home but still has a fun honeymoon feeling.
The region also received lots of new attention after "The Office" wedding episode -- set on the American side of Niagara Falls -- aired last October.
The number of people clicking on the wedding section of the Niagara Tourism and Convention Corporation's Web site shot up 83 percent the day after the show aired, spokeswoman Kate Scaglione said.
'Magical' place
Jessica Hamlet of Portland, Oregon, was one of the millions of people watching the show.
"As soon as I saw that episode, I went, 'No way, Jim and Pam ripped off my honeymoon!' " Hamlet, 24, said with a laugh.
She and her husband, Tim Hamlet, 36, honeymooned at Niagara Falls last April and stayed in the same hotel used as a setting in "The Office" wedding. (The Tudor-style Red Coach Inn was renamed the Statler Falls Hotel for the episode.)
The Hamlets honeymoon in Niagara Falls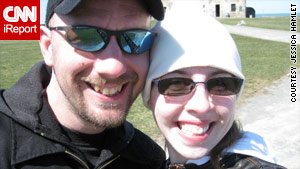 Jessica and Tim Hamlet honeymooned at Niagara Falls last spring.
The couple picked Niagara Falls because she hates to fly and he loves old movies.
"[In the films,] they're always talking about taking the train to wherever and going to Niagara Falls for their honeymoon, and he said: What if we take the train to Niagara Falls?" Jessica Hamlet recalled. "I loved the idea. As soon as he said it, that was it."
After a cross-country train trip, the self-described history geeks had a great time exploring the falls and the surrounding region, including Old Fort Niagara, which dates back to the 18th century.
The couple was also awed by the romance of the falls.
"There's just something magical about being in this place that has been here forever and that people have been coming to for a very long time to celebrate their love," Jessica Hamlet said.
"It's sort of humbling to see this power of nature and also to be there with someone you love."
Maid of the Mist vows?
Prospective brides and grooms have lots of options if they wish to exchange vows on either side of Niagara Falls.
Adventurous couples can get hitched in a helicopter or a tethered balloon hovering above the falls. More grounded ones can stay closer to earth in chapels and gardens.
Niagara Falls State Park in New York issues about 350 permits a year for weddings, but there are dozens more that officials don't know about because some couples simply enter the grounds with a minister and get married without a big ceremony, park spokeswoman Angela P. Berti said.
"We don't really require anything; we want to make it easy for people who want to show their love at Niagara Falls," she said.
The most popular places to get married in the park are Prospect Point and Terrapin Point, which offer great views. There was a slight, but noticeable, spike in public interest in wedding options at the park after "The Office" nuptials, Berti said.
On the Canadian side, Queen Victoria Park offers picturesque wedding sites, including Oakes Garden Theatre and the Botanical Gardens. About 250 weddings took place in the area last year, according to the Niagara Parks Commission.
Couples who want to get hitched just like the show's Jim and Pam characters did -- on board the Maid of the Mist, the boat that takes visitors breathtakingly close to the falls -- should know that it's possible, but not exactly the way it happened on "The Office."
Brides and grooms can bring along a person to officiate the ceremony, but the captain cannot take part, said Tim Ruddy, vice president of marketing for the Maid of the Mist Steamboat Company.
Meanwhile, Jessica and Tim Hamlet had such a great time on their honeymoon, they're already thinking about their next trip to the region.
"We're planning to go back to Niagara Falls for our fifth anniversary, our 10th and our 25th and our 50th and pretty much as often as we can go back," Jessica Hamlet said.