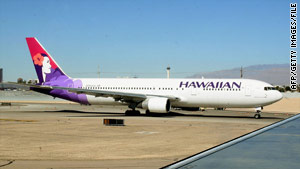 Hawaiian Airlines ranked at the top, with 92 percent of its planes landing on time in 2009.
STORY HIGHLIGHTS
Hawaiian, Southwest top list of on-time arrivals

Delta ranked worst of big five American legacy airlines

Southwest Airlines had fewest consumer complaints

(CNN) -- Airlines in the United States did a better job of getting passengers and their luggage to their destinations on time last year, according to the federal government's latest report on airline performance.
The nation's largest airlines' 79.5 percent on-time performance rate in 2009 was their best since 2003, according to the Transportation Department's Air Travel Consumer Report made public Friday.
Travelers planning trips can use the report to see which air carriers and routes are most likely to be delayed or lose their baggage, at least based on recent performance.
Hawaiian Airlines ranked at the top, with 92 percent of its planes landing on time, and Southwest Airlines was second at 82 percent.
United Airlines, however, wasted no time putting out a news release boasting about being sixth overall but first among the five largest U.S. global carriers. United's on-time rating of 81 percent was an improvement of nearly 10 percentage points over 2008, it said.
Delta ranked the worst of the big five last year, with 78.6 percent of its flights on time. Delta was ranked 12th among the 19 air carriers reporting to the government.
The bottom of the list was occupied by AirTran (17th), Atlantic Southeast (18th) and Comair (19th).
Although AirTran passengers may have been more likely to land late, the odds that their bags arrived in the right place at the right time -- and without being smashed -- were the best.
AirTran mishandled just 1.67 bags for every 1,000 passengers last year, compared with Atlantic Southeast Airlines -- the worst -- which mishandled 7.87 bags for every 1,000 passengers, the report said.
The overall chances that your baggage was "lost, damaged, delayed or pilfered" last year was the lowest since 2002, the government said.
Delta had the most consumer complaints, with 1.96 complaints per 100,000 enplanements in 2009, while Southwest had the fewest with just 0.21 complaints per 100,000 enplanements.
The worst airline for bumping passengers with tickets from a flight last year was American Eagle, which denied boarding to 3.76 of every 10,000 customers who had confirmed reservations, the report said.
JetBlue was the least likely to oversell a flight, bumping just 43 travelers out of more than 22 million last year, the report said.
Another frustration is getting stuck in your seat for hours while a jet sits on an airport tarmac waiting for clearance to take off. The report included figures for tarmac delays for December.
American Airlines led the list with 10 flights in December that stayed on the tarmac for more than three hours, the report said.
American Eagle Airlines, second with nine tarmac delays over three hours, also had the distinction of having one plane filled with passengers sit on the tarmac for more than four hours.
American Eagle Flight 2808 sat for 248 minutes with passengers buckled in on the Dallas-Fort Worth tarmac waiting to depart for Moline, Illinois, on Christmas Eve, the report said.
If you're worried about taking Fido on a trip, the figures for December may or may not be comforting.
No animals were lost on December flights, although there were two deaths.
Delta and American Airlines each reported one pet death on board, and Alaska Airlines reported an injury.
The full report can be downloaded online.