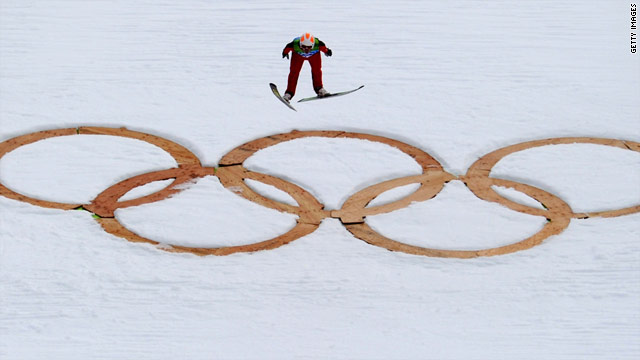 STORY HIGHLIGHTS
Bring two sets of gear for your extremities; you're likely to lose a mitten or hat

Avoid generic shopping bags -- you want one that stands out at the bag check

The further you venture, the more likely you are to find meals at better value and taste
(CNN) -- If you're suiting up for your first Winter Olympics as a tourist, get ready for a double-barrel blast.
First, the wintry blast of cold. Second, the blast of mingling with people from around the globe.
The official spectator guide offers the basics. To survive and thrive in the crazy winter carnival ahead, here are my advanced tips, gathered the hard way at the past two Winter Olympics:
Before you go, pack:
-- Shoes that are warm, weatherproof and comfortable. You will be on your feet a lot, either walking or standing in line, sometimes in the snow. Traction is crucial for walking over ice. One solution that moves easily from indoors to out is a slip on, weatherproof shoe/boot hybrid like LLBean's Storm Chaser. Note that boots can get uncomfortably warm, especially when you move indoors for long periods. Skip footwear with laces; mittens or gloves will hamper your dexterity.
-- Two of every item for your extremities (shoes, mittens, gloves, hats). You will shed layers as you move through security lines. Expect to lose one set of everything.
-- Thin layers, which are warmer than a single thick layer.
-- Long underwear, the thinner the better. It's light, warm and easily washed out. Ditto tights or hose.
-- Anything patriotic. Some hardcore Americans will wear only red, white and blue.
-- Anything that identifies your home. You may end up trading your Hard Rock hat for a Finn's national snowboard hoodie.
-- For reuse. Before the Olympics, I bought almost my entire wool and fleece wardrobe at an Atlanta thrift store for less than $50, then gave those clothes to my hotel maid. I didn't need them, and leaving them made room for souvenirs in my suitcase.
-- Pragmatically. An Olympic crowd is the ultimate in diversity. People wear everything from cheerleading skirts to mukluks. If a plastic trash bag keeps you warm and dry, few people will look twice.
-- A sense of humor. People arrive with jet lag and colds. Throw in the cold and crowds, and that makes for some seriously cranky visitors. Chill out. Look for the humor in the glitches, and think of all the stories you'll tell later.
iReport: Are you in Vancouver?
Always carry these essentials:
-- ID, tickets and money
-- Snack (to eat before you go into a venue, where outside food is prohibited)
-- Clear water bottle
-- Olympic and city maps; weatherproof if possible
-- Lip balm and sun block -- the snow glare can be brutal
-- Sunglasses
Hanging any or all of the above around your neck -- by lanyard or in a small pouch -- will simplify your life. You won't have to scramble through clothing layers to find what you need. As long as your pouch is smaller than a breadbox (6 x 6 x 12 inches), you can easily pass through the express lane at security. You can also avoid theft by tucking the pouch near your skin.
Optional items:
-- Business cards (or any card with your name and hometown on it) are currency at the Olympics. Because of so many people in close quarters, even an introverted spectator can come home with a stack of these. If you have a stack to trade, that is.
-- A Sharpie and small notepad for autographs, or to make a sign if you are looking for tickets. Just before non-marquee events, people have been known to give away tickets that would otherwise go unused. Your sign shouldn't mention money, because scalping is illegal at the Games.
The autograph policy varies by venues. Snowboarders are typically available, but mobbed, for example. Downhill skiers are more reclusive. Generally most Olympians are approachable off the field. They often show up at sponsor pavilions when their sport is over.
When attending an Olympic sport, bear in mind:
-- Unlike Olympic sports on TV, watching it live can be very confusing. Even the familiar sports, like hockey, have special rules for the Olympics. Don't count on announcers explaining the action. And the acoustics, especially outdoors, can be poor.
-- Spectators typically either a) know everything about the sport or b) are just there to say they've been to the Olympics. If you are among the latter, you may want to find the former. These experts are often very friendly, because the Olympics are their main time to promote their sport. Look for someone who is really studying the action, looks official in some way, or wears a shirt with an athlete's name. Approach during a timeout.
-- Often the action in the stands is as interesting, or more, than what's on the ice.
Getting around, remember:
-- The Olympics runs on an official transportation system of mostly buses. Information is included with your ticket. There is no spectator parking at the Olympics, so drive at your own risk.
-- Allow ample time. The bus to alpine events in Whistler will take up to three hours (aka naptime). All venues open at least two hours early.
-- Security checkpoints are often very slow because other spectators aren't as prepared as you will be.
Soaking in the atmosphere
-- The Olympics is a flashbulb moment that lasts 16 days, so bring a camera or recording device.
-- See the day's top athletes accept medals at the BC Centre, followed by a concert by Nelly Furtado or another Canadian act.
-- Trade pins. Try to bring small lapel pins that identify your home or interest. Mingle with "pin heads" at the Coca-Cola pavilion at LiveCity Downtown, a main gathering place during the Games.
-- Check out one of the satellite party areas. (Here's a full list) The Richmond O Zone will feature the ever popular Holland Heineken House, open to fans from all over until 2 a.m.
-- Watch the taping of NBC's "The Today Show" from Grouse Mountain, from 4 a.m. to 8 a.m.
-- Take in the Cultural Olympiad, celebrating the Aboriginal and other influences of Western Canada. Many events are free.
Eating and shopping
-- You will pay more and have fewer choices, the closer you are to an Olympic venue or medals plaza. You will also encounter the longest lines.
-- The further you venture, the more likely you are to find meals at better value and taste. A good meal is the best use of taxi fare at the Winter Olympics.
-- Try and buy what's local. In Vancouver, Mackintosh's toffee bars make nice souvenirs. Splurge on a Hudson Bay wool blanket.
-- Avoid any generic shopping bags. You want one that stands out at the bag check. Try a thin zip-out backpack:
-- If you see a great souvenir, don't hesitate. The cleverest items run out fast.
Few people ever get to be this close to the Olympics, and at times you may wish you were far from the mayhem. Remember, you'll have lots of stories about the glitches, but mostly about the extraordinary Games you just participated in.
Michelle Hiskey is a freelance writer in Decatur, Georgia. She covered the 2002 and 2006 Winter Olympics for the Atlanta Journal-Constitution, as well as the 1992 and 1996 Summer Games.