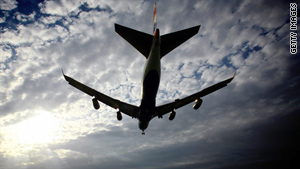 Gary Leff says he likes that he's "figured out the travel world to the extent that you can live well while traveling."
STORY HIGHLIGHTS
It was easier to accrue miles in 2009 than in previous years, frequent flier says

Traveler flew San Francisco-Chicago-Tokyo and back in a weekend to gain miles

"It is fun to figure out the opportunities" offered in airline promotions, flier says

(CNN) -- Since Gene Gibbs, based in San Francisco, California, got his passport in 2003, he has visited 20 countries with the help of airline miles.
Gary Leff of Washington is an air mile millionaire. His goal is never to fly economy again; it's first class all the way.
CNN's Ayesha Durgahee spoke with these two frequent fliers about the "game" and the rewards of racking up miles. Following is an edited version of those interviews.
CNN: What is it about chasing air miles?
Gary Leff: I can experience travel in a way that my income wouldn't otherwise support. The airlines and hotels offer aspirational awards such that I can see the world in a way that I wouldn't otherwise have the opportunity to. I love to try the different airline products, the different seats, the different meals and the different lounges. The Lufthansa first-class terminal in Frankfurt is very special, ANA probably has the best food in the sky with its first class, Emirates have installed showers.
CNN: Has it been easier to accrue miles, especially during the global recession? Are airlines practically giving miles away or making it harder?

Video: More miles for your money
Leff: It's been easier both to accrue and spend miles. The airlines are offering all sorts of promotions in order to generate incremental business, the miles are cheap for them to print, and they encourage activity that generates cash. And at the same time, there are fewer people buying premium cabin international fares, [so] those seats are offered as awards.
Gene Gibbs: 2009 by far has been the easiest to accrue both qualifying miles and redeemable miles. Over the last four or five years, the number of people who have the highest status on Delta, which is currently platinum, has inflated greatly for various reasons. No. 1, they lowered the threshold required to obtain that status from 100,000 miles to 75,000 miles, and Delta's also provided several different means to earn elite qualifying miles to achieve that status.
CNN: Do you ever go on a mileage run to ensure that you rack up enough miles to keep your status? Have you ever been in the "danger zone," so to speak?
Gibbs: There are a lot of people who do far crazier things, but probably the craziest thing that I've ever done is, over a weekend, flying out from San Francisco on a Friday night, connecting to O'Hare in Chicago, flying to Tokyo and then turning right around and coming back ... with only an hour and a half layover in Tokyo, flying back to Chicago, flying back to San Francisco.
CNN: Wow! You literally turned on your heel and came straight back. That's crazy. How many miles did you earn -- was it worth all that traveling?

Gibbs: 30,000 qualifying miles -- 30 percent of what you need to obtain top status, and in addition we earned 30,000 redeemable miles that we could use to buy award tickets.
CNN: When you're sitting in first, do you smile, looking around knowing that you haven't paid the full price like other passengers?
Leff: It is a game -- it is fun to figure out the opportunities created by the rules that promotions offer. It is fun to know that you have figured out the travel world to the extent that you can live well while traveling -- that you can redeem your miles on almost any flight you want, that you can find those reward seats and that planning a trip is just as fun as taking the trip, strategizing, thinking through what you can achieve and then actually achieving it. It's not about being wealthy but about being smart.
CNN: What do you say to people who don't quite understand the obsession or how fun it is to travel with only air miles in mind?
Gibbs: People have the perception that when you fly on these award tickets, it's free. But really, it's not free. We spend a lot of money on the flights to earn the miles, spend a lot of time researching the best way to earn miles, you spend a lot of money on hotels, renting cars -- so there's definitely a lot of cost involved, it's not free. If it wasn't for the miles and the status, we probably never would have started flying, and we probably wouldn't continue to do it. So it's been a great opportunity to expand our horizons.