Air France changes policy for heavy passengers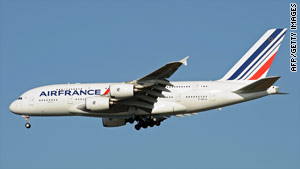 The change in Air France's policy on obese passengers takes effect in February.
STORY HIGHLIGHTS
Air France may refund cost of second coach seat purchased by large passengers
Change in policy starts next month; applies when the coach cabin is not fully booked
Many airlines have been grappling with how to deal with overweight customers
A third of Americans are now classified as obese
(CNN) -- Overweight air travelers having trouble squeezing into one seat on Air France may soon be spending less to ensure that they have more space.
The airline announced Wednesday that, starting next month, it will refund the cost of a second coach seat purchased by heavier passengers if the economy cabin is not fully booked.
Air France's policy has been to allow overweight passengers to buy the second seat at a 25 percent discount.
Most of the time, a solution to accommodate people with "a high body mass" can be found even if they don't book an additional seat, said Cedric Leurquin, a spokesman for Air France.
The change in policy is meant to give customers assurance that they can have more room if they need it without paying more, he added.
"If you have to book a second seat, you shouldn't be scared of that, because in most cases, you will be refunded for the second seat. It's just a way of being transparent," Leurquin said.
Air France cautions passengers that if a flight is full and they have not reserved an additional seat, they may not be allowed to board if their build does not allow them to sit comfortably in a single seat.
The airline also issued a statement denying reports that it would force overweight passengers to buy a second seat. The airline has always only advised those customers to reserve two adjacent seats, Leurquin said.
Air France hasn't seen an increase in obese passengers in recent years, Leurquin said, but many other carriers have been grappling with how to deal with overweight customers.
A third of Americans are now classified as obese, according to the Journal of the American Medical Association. But the width of a coach airplane seat has changed little, remaining between 17 and 18 inches in most commercial planes.
The Federal Aviation Administration does not regulate seat width, but it does require passengers be able to sit belted and with both arm rests down to comply with safety standards.
Responding to complaints from both large passengers and those feeling crushed while sitting next to them, airlines have adopted various policies to cope with the problem.
Southwest Airlines, for example, refunds the cost of an additional seat to "customers of size" after travel is completed if the flight doesn't oversell. The policy applies to "customers who are unable to lower both armrests and/or who compromise any portion of adjacent seating."
United Airlines says passengers who are unable to safely fit into one seat must pay full price for a second seat. They may receive it free if the plane has vacant seats.
CNN's Stephanie Chen contributed to this report.