Security breach at JFK airport causes delays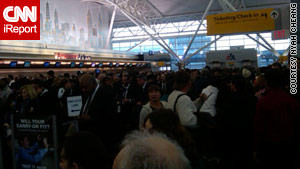 An iReport photo shows crowds at New York's John F. Kennedy airport.
STORY HIGHLIGHTS
Officials rescreen all passengers in affected terminal
Flights are two to three hours behind schedule, American Airlines says
Person used nonpublic employee door to enter secure area in Terminal 8, TSA says
New York (CNN) -- A security breach at New York's John F. Kennedy International Airport on Saturday prompted authorities to evacuate a terminal, disrupting travel and sparking delays for hundreds of passengers.
Port Authority of New York and New Jersey spokesman Steve Coleman said a person arriving from an Orlando, Florida, flight apparently went through a restricted door, setting off an alarm.
The Transportation Security Administration said the breach occurred at about 3:30 p.m. when an individual entered the secure, "sterile," area in Terminal 8 through a nonpublic employee door used by the airlines.
The breach forced authorities to evacuate the terminal and rescreen passengers. By 6 p.m., authorities had finished the rescreening and had opened the terminal, Coleman said. Security cameras captured the person's image, Coleman said, although he did not provide a description.
Although American Airlines spokesman Charlie Wilson said everything was "back to normal" in the terminal, he said flights were running two to three hours behind schedule.
"We'll work through the night to get everyone out to their destination," he said. Seven flights had sat on the tarmac waiting to approach gates while the security sweep occurred.
Port Authority police were still searching Saturday night for the individual, Coleman said.
A first-hand account: JFK airport a sea of people
Earlier, TSA said it and the Port Authority of New York and New Jersey were looking for the individual who prompted the breach, although by 9 p.m., there was no word on whether the person had been found.
Earlier this month, a man was charged with trespassing after allegedly triggering a security breach at Newark Liberty International Airport in New Jersey.
Haison Jiang, 28, of Piscataway, New Jersey, faces a charge of defiant trespass, after allegedly ducking under a rope and walking the wrong way through security to greet a woman. The incident prompted a security breach that shut down Terminal C for hours and forced the rescreening of thousands of passengers.
CNN's Miguel Susana contributed to this report.