Fighter jets scrambled again because of unruly airline passenger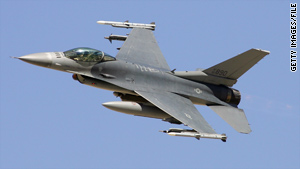 F-16s were dispatched for the second time in two days because of an unruly passenger on a U.S. domestic flight.
STORY HIGHLIGHTS
NORAD: Two F-16s dispatched Friday on reports of unruly passenger aboard AirTran flight
Passenger was belligerent, wouldn't leave bathroom, airline spokesman says
Atlanta-to-San Francisco flight was diverted to Colorado Springs, Colorado
Fighters escorted jet bound for Hawaii back to Oregon on Wednesday in similar scenario
(CNN) -- In the second such incident in three days, fighter jets escorted a diverted commercial flight on Friday after an unruly passenger caused alarm onboard.
The military sent up two F-16s in response to reports of an unruly passenger aboard AirTran Flight 39, the North American Aerospace Defense Command said in a statement.
The passenger had become belligerent and refused to leave the restroom, airline spokesman Tad Hutcheson told CNN on Friday. The passenger appeared to be intoxicated, he said.
The flight, bound for San Francisco, California, left Atlanta, Georgia, at 9:48 a.m. ET, according to AirTran's Web site.
NORAD dispatched the fighters at 1:44 p.m. ET, escorting the aircraft to a safe emergency landing in Colorado Springs, Colorado, officials said. The passenger was detained there and FBI agents from Denver, Colorado, were called to question passengers, Hutcheson said.
The other passengers were scheduled to continue their trip at 4:30 p.m. ET, he said.
On Wednesday, NORAD escorted a Hawaii-bound plane back to its origination city of Portland, Oregon, after a passenger gave a flight attendant a note that was interpreted as being threatening, the federal complaint and supporting affidavit said Friday.
The passenger, Joseph Hedlund Johnson, 56, told the FBI he hadn't intended to scare anyone with the note, which began, "I thought I was going to die," and referenced the television show "Gilligan's Island."