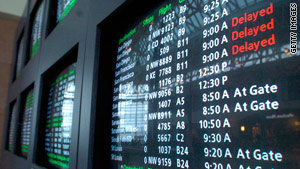 STORY HIGHLIGHTS
If your flight is canceled, you can usually get your money back

Most airlines aren't required to offer special compensation for weather delays

Ask politely if there's anything the airline can do to offset the inconvenience

(Tribune Media Services) -- The holiday blizzard was a warning to air travelers: Winter is only starting, and when bad weather moves in, your flight schedule isn't worth the paper it's printed on.
Nicholas Holland learned that when he tried to fly from Reagan National Airport in Washington to Fort Lauderdale, Florida, for a Christmas party on December 18. US Airways canceled his original flight and rescheduled him with a connection through Cleveland. But when a record snowstorm slammed Washington on Saturday, US Airways canceled the new flight, too.
Holland, a project manager for a construction company in Gaithersburg, Maryland, decided to stay home. "I asked for a refund," he said.
That's lesson No. 1 about winter-weather delays: No matter what kind of ticket you're holding, if your flight is canceled, you can usually get your money back. Every last penny. It's one of the few rights you have, at least on paper, when there's what airlines call an "act of God" -- an event beyond the airline's control. (Check your airline's contract of carriage, the legal agreement between you and the airline, for details on refunds. No two contracts are exactly the same.)
Which brings us to lesson No. 2: Your rights on paper are not the same as they are in practice. Your contract basically says that if weather causes a cancellation but you want to continue your trip, all bets are off in terms of what sort of compensation the airline might give you to offset the inconvenience. But ticket agents and gate agents have a lot of flexibility to make your trip more comfortable.
With a few discreet clicks of the keyboard, an airline employee can offer you a meal voucher, a phone card, a hotel voucher -- even a seat on another flight by a different airline.
No, they don't do it for everyone. But if you're an elite-level frequent flier, a mom with infant twins or a grandpa in a wheelchair, you'd better believe that they're not going to let you spend the night on the concourse floor. Passengers who are polite and accommodating are given priority for these special perks. Don't demand them under any circumstances. But it never hurts to ask for them nicely.
And here's lesson No. 3: Airlines don't always tell the truth about the weather. Howard Altschule, a meteorologist with Forensic Weather Consultants in Albany, New York, says that there are three main reasons for a legitimate weather delay: rough weather at your departure airport, at your arrival airport or at the airport your aircraft is coming from.
But airlines are on the honor system to report the cause of their delay, so they sometimes blame the weather when there's another reason. Why? If a flight is delayed because of mechanical problems, airlines are required to offer more generous compensation. "Sometimes they B.S. their passengers," says Altschule.
Lesson No. 4? It's never too early to worry about the weather. Many passengers head to the airport, hoping for the best. A few call their airline 24 hours before their departure to confirm their reservation and check in. When serious weather is headed your way, these strategies are useless.
Take what happened to Naomi Shapiro, a writer who lives in Madison, Wisconsin. She was on her way to Israel a few weeks ago when a big snowstorm converged on Wisconsin. She contacted Delta to see whether she could leave on an earlier flight. The airline refused, saying its operations team needed to make "a determination" on weather conditions and issue a bulletin to its reservations agents to allow passengers to rebook their flights without penalties. Delta would do that only if the storm was expected to disrupt its flights. I called Delta on Shapiro's behalf, but it stood firm: no waivers without the bulletin.
"It was the biggest snowstorm in years -- 17 inches," Shapiro remembered. "Everything was closed -- the University of Wisconsin, the city, the state, schools, stores, businesses. People were advised not to go out." And yet remarkably, her flight left on time.
Still, Shapiro had the right idea. Had Delta issued a bulletin, she would have left early and avoided a possible long delay.
Lesson No. 5 comes to us courtesy of David Fang, who was trapped in the Charlotte, North Carolina, airport last week: Stay away from large crowds of people wherever possible during a weather delay. A long wait in a line can be abbreviated by using your cell phone to call the airline or by logging on to its Web site.
The crowds Fang saw in Charlotte turned hostile when it became clear that they would be stuck overnight. That almost led to a riot, according to Fang, who lives in Santa Rosa Beach, Florida. Police had to be called, and the mood remained tense until one passenger began randomly tossing chocolates into the unruly crowd.
"Chocolate really does make a world of difference," says Fang. That's so true.
And lesson No. 6: If you can, avoid bad weather in the first place, and you won't have to concern yourself with a flight delay. We may not be able to predict temperatures and precipitation with pinpoint accuracy, but it's a safe bet that there will be ice in the winter, fog in the fall and hurricanes in the late summer, depending on where you visit. Why take chances?
If you can take a vacation when the weather is stable and pleasant, why not fly then?
(Christopher Elliott is the ombudsman for National Geographic Traveler magazine. You can read more travel tips on his blog, elliott.org or e-mail him at celliott@ngs.org).
© 2009 CHRISTOPHER ELLIOTT DISTRIBUTED BY TRIBUNE MEDIA SERVICES, INC.