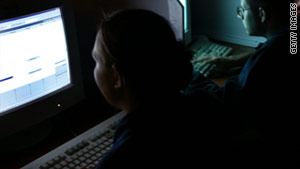 Managing your privacy online can be tough, but there are some simple precautions you can take.
STORY HIGHLIGHTS
Preserving privacy online isn't easy, but there are things you can do
Web browsers offer a number of features to avoid ad tracking and halt data snoopers
Social networks such as Facebook and Twitter have ways to lock your profiles
Pause and think before you make an online post you might regret later
Editor's Note: This is part of CNN's End of Privacy series. Join the conversation on Twitter by following @cnntech and #endofprivacy.
(CNN) -- Losing control of your personal information can be all too easy online. But by taking some precautions, you can maintain privacy while surfing the Web.
We've got five tips for protecting yourself:
1. Adjust social-network privacy settings
Facebook has made strides in simplifying its privacy settings, but their many options can still seem like a labyrinth. Still, it's worth going in there every once in a while and familiarizing yourself with how much of your information is shared with the world.
To get there, log in to Facebook, and type "privacy settings" into the search box. Facebook recently shrunk that feature to be accessible from a smartphone.
The settings page now offers quick toggles to decide whether your profile is shared just with approved friends, with their friends, too, or publicly. Because many people draw privacy lines differently, you can also fine-tune individual switches.
Taking a leap further, you can give the "super-logoff" trick a try. It's especially popular among young people.
Twitter, another popular social network, also lets you lock your account from public view. In settings, there's a feature called "protect my tweets."
2. Ensure personal data is sent over a secure connection
When sending credit card numbers, banking information and passwords, verify that there's an image of a padlock on the address bar of the browser. This denotes a secure connection to the site. This technology encrypts the data you send and receive, so it's difficult for anyone snooping on the line to access your info.
3. Consider opting out of ad tracking
Online ad networks often install a small file on the computers of people who visit certain websites. These so-called cookies can log your surfing habits, allowing advertisers to tailor ads to your interests.
But what if we don't want to be tracked?
For starters, many Web browsers have a feature in their settings panel that lets you disable cookies from third-party websites. This will stop many ad networks from gaining a fast track into your computing activities.
A couple of organizations offer systems for opting out of popular ad networks. The Network Advertising Initiative and PrivacyChoice.org let you opt out of ad networks with a few clicks. You'll need to activate this on every computer you use. But be warned: Some ad companies may continue to track you even though you've elected to opt out.
Like commercials on TV, advertising provides the cash to keep many websites running. Opting out of tracking won't make ads go away, but tracking advocates say it makes them more annoying because they're less relevant to the user.
4. Use private Web browsing features or install a VPN
Most modern Web browsers provide an extra layer of protection. Called either "private" or "stealth browsing," these sessions keep out cookies and don't log site history.
For stronger protection, you can install what's called a Virtual Private Network. This encrypts practically everything you do on the Web while the VPN is enabled. Many companies offer this feature to their employees, which sends the data back to corporate-owned servers. There are a number of free VPNs available for download.
Another handy program, Little Snitch, will report whenever software may be doing something fishy. Anytime an app on your computer tries to send information over the internet without your permission, an alert will pop up.
5. Think before you post
This may sound obvious to some, but if you're posting information to a company's server, you have little guarantee that it won't find itself elsewhere.
Even if all of your privacy settings are in order, a social network might change its policies later. The system might spring a hole vulnerable to search bots or hackers. A trusted friend might see one of your party photos and decide to pass it on.
Use your brain. If you don't want something sailing into the public domain, don't put it on the boat.
FOLLOW THIS TOPIC