Google rolls out Chrome app store, other updates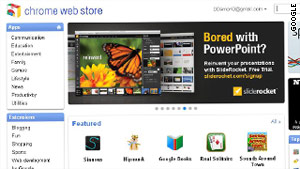 The Google Chrome Web Store, introduced on Tuesday, features free and paid apps for the browser.
STORY HIGHLIGHTS
Google announces a new web store for its Chrome browser

The Chrome Web Store features both paid and free apps

Google also announced it will hand out test computers that run a Chrome operating system
(CNN) -- Google rolled out an update to its Chrome Web browser on Tuesday, complete with an iTunes-style app store for the browser.
The Chrome Web Store features an array of games, Web tools, news apps and other features that can be incorporated with the browser after its new update.
"The store will be featured prominently in Chrome, helping people discover great apps and developers reach millions of users around the world," Google said Tuesday in a blog post.
In the store's "featured" sections on Tuesday were apps from the New York Times, the Onion News Network, eBay and a variety of games. Some will look familiar to users of the Apple Store and other mobile retail platforms.
A quick look found a free version of the popular "Plants vs. Zombies" game. While there was a desktop theme for "Angry Birds," that addictive smartphone favorite didn't appear to be available yet.
There was a mix of free and paid apps. The store is currently available only in the United States, but Google said it will be rolled out to other countries in the coming months.
The new update will also make Chrome faster, Google says.
Google Instant, which shows results as the user types, has been added to the Omnibox -- its combination browser and search box. Google also will roll out a revamp of Chrome's Javascript engine, which the company says will load programs written with that language twice as fast.
"Speed is what people love most about Chrome, and we're always working to make the browser even faster," read the blog post by engineering vice president Linus Upson and product-management vice president Sundar Pichai.
The blog also announced a plan to hand out "pre-beta" notebook computers that will run a new Chrome operating system. The pilot program is a pre-cursor to Google's plan to partner with Acer and Samsung to sell Chrome computers next year.
The test computers will be handed out "to qualified users, developers, schools and businesses." They'll be black and have no branding, logos or stickers.
But Google did say they'd have 12.1-inch screens, full-size keyboards and touchpads and come with integrated 3G service from Verizon.
The Chrome browser still trails Mozilla Firefox and Internet Explorer in terms of users. But it's been gaining fast .According to one recent report, Chrome has just over 19 percent of browser use in November (compared to 44 percent for Firefox and about 30 percent for Explorer).
That percentage was up from just under 3 percent in January 2009.
The blog post said that the number of people who have used Chrome tripled this year, from 40 million to 120 million.
FOLLOW THIS TOPIC