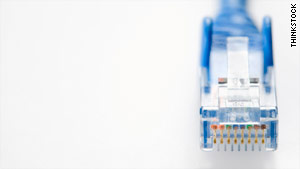 A new report finds a "digital divide" between those Americans with broadband access and those without.
STORY HIGHLIGHTS
Federal report shows a persistent digital divide

Race, income and education all play a role

FCC: Internet access becomes increasingly important as services move online
(CNN) -- Despite widespread increases in use of broadband internet, the Web today still doesn't accurately represent the racial demographics of America.
That's the take-away from a report on U.S. broadband adoption, published Monday by the Department of Commerce.
"An African-American household at the same income level and with the same education level as a white household is still less likely to have broadband access and use the internet," said Rebecca Blank, one of the report's authors and the undersecretary for economic affairs at the Department of Commerce.
The report analyzed U.S. Census Bureau data from 2001 and 2009 to make its conclusions. The October 2009 survey polled 54,000 households, making it one of the most authoritative looks at internet adoption and the "digital divide" between people who have access to high-speed internet and those who don't.
Among the key findings:
• Internet use is more prevalent in white and Asian-American households than with people from other racial groups. Sixty-eight percent of white homes have high-speed internet; meanwhile, 48 percent of Hispanic homes and 49 percent of African-American homes have that access.
• Asian-American homes have the highest rate of broadband adoption in the U.S., with 77 percent of those homes saying they have high-speed internet.
• People with more education and more money are more likely to have high-speed internet access at home, but those characteristics don't fully account for the racial divide of internet users.
• When income and education are taken out of the equation, white people still are more likely than black people to have high-speed internet at home, by a factor of 10 percentage points. The gap between white and Hispanic homes is higher still -- at 14 percentage points.
• Those racial gaps have narrowed somewhat since 2001 but remain persistent.
• People in urban areas and younger people are also more likely to have internet access than people who live in rural areas or who are older.
• Overall, internet use is up significantly from 2001 to 2009. In 2001, 9 percent of all households connected to broadband internet. In 2009, 64 percent did.
The report debunks the misconception that income and educational levels alone can explain gaps in high-speed internet adoption, said Darrell West, founding director of the Center for Technology Innovation at the Brookings Institution.
"A lot of people assume these disparities are due just to income and education, but there seems to be more going on than that," West said. "It's not clear exactly what explains those differences, but the numbers suggests it's not just income that creates the digital divide."
Researchers are still mystified about why the racial gap exists, but there are a few theories. Blank, one of the census report's authors, said people's social networks may factor into the situation.
"The internet is all about being part of network of people who are also using the internet," she said in a conference call with reporters.
So there may be a sort of momentum for the status quo. If a person's social network doesn't use the internet, then there's less incentive to join.
Language is also a barrier for Spanish-speaking people, said Aaron Smith, a senior research specialist with the Pew Internet & American Life Project, a nonpartisan research group.
But overall, Smith said, racial digital divides appear to be narrowing over time.
And the prevalence of mobile devices that access the internet brings new hope for broader access to the Web, he said.
"The nature of that divide is changing as internet access goes from something that just occurs at home or on a big screen with a dedicated high-speed connection to something that's much more mobile and much more transient -- something that stays with you wherever you are," he said.
He also said income and education are still more important factors than race when it comes to predicting whether a person has internet access.
That's a point the Commerce Department report echoes.
"Controlling for various non-income attributes, the gap between households with incomes greater than $100,000 and those with incomes less than $25,000 totals 34 percentage points," the report says. "Similarly, the controlled gap for those with at least college degrees versus those with no high school diplomas tallies 29 percentage points."
The Federal Communications Commission in March issued a proposal for how the country can bring internet access to more Americans. The FCC says broadband access is important because so much essential information -- from job applications to government services -- is now on the internet.
It's unclear to what extent that broadband plan will be funded and adopted by Congress, researchers said.
The Brookings Institution's West said it's crucial for Congress to adopt one FCC proposal that would transfer money from a program to get Americans more access to phone lines to another that would push for internet access.
"We need to address these inequities so all Americans can gain the advantages of the digital revolution," he said. "You don't want people left behind."
FOLLOW THIS TOPIC