Jon Stewart's 'sanity' gets Auto-Tune treatment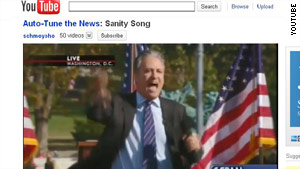 Comedian Jon Stewart's "Sanity Song" is the Gregory Brothers' latest online Auto-Tuning.
STORY HIGHLIGHTS
Jon Stewart's call for "sanity" gets the Auto-Tune treatment

Gregory Brothers have had viral hits like "Bed Intruder"
(CNN) -- At this point on the Web, if it doesn't get Auto-Tuned, it didn't really happen.
So it's no surprise that Jon Stewart's impassioned plea for, well, less passionate politics and better coverage of it has gone T-Pain style.
The Gregory Brothers, the minds behind Auto-Tune the News, wasted no time giving the tinny, studio treatment to "Daily Show" host Stewart's address from this weekend's Rally To Restore Sanity And/Or Fear.
"Sanity Song," puts a beat behind Stewart, with the phrase "every damn day" becoming its refrain.
The clip features Stewart joking that the proverbial light at the end of the tunnel "isn't the promised land, it's just New Jersey" and ends with the brothers offering defenses of the state, including "low gasoline tax."
Early Monday afternoon, the video was still picking up steam, with about 25,000 views on YouTube.
But if the Gregorys' track record is any indication, the number of page views will keep climbing -- even if it is no "Bed Intruder."
FOLLOW THIS TOPIC