Video chat popularity growing in U.S., study says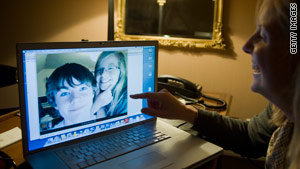 Nearly one out of five U.S. adults have used video chat on their computers or cell phones, a new report says.
STORY HIGHLIGHTS
Nearly a fifth of American adults have tried video chat, a survey says

The report says 23 percent of U.S. internet users have chatted using video

Seven percent of cell phone owners have made a video call, survey says
(CNN) -- With the recent popularity of video chat, Verizon Wireless may want to change its slogan to: Can you see me now?
Nearly one-fifth of American adults have used video-calling features on their computers or cell phones, according to a report by the Pew Research Center's Internet & American Life Project.
The study found that 23 percent of U.S. internet users have used a video-chat service, such as Skype, Google Talk or iChat.
Unfortunately for Verizon, much of the hype surrounding video chat in the last few months can be attributed to the success of Apple's iPhone 4, exclusively available on rival network AT&T.
Apple didn't invent video calling, but the technology giant has helped popularize the application for hand-held devices thanks to its FaceTime software. In September, the Cupertino, California, company released a new iPod Touch with two cameras that work with FaceTime.
But the iPhone is limited to doing video calls when connected to a Wi-Fi hot spot. Some of Google's Android phones, including the Sprint Nextel's Evo 4G, can make calls over the carrier's fast, fourth-generation wireless data network.
Many computers are sold with connected webcams. Nearly two-thirds of U.S. homes own at least one camera phone, according to a survey by PMA Marketing Research. However, few smartphones include a camera on the front, which is needed for practical video calling.
Parents appreciate the Skype computer program for, say, being able to keep in touch with their children who are studying abroad.
Mobile may prove to be a market with major potential for growth. Pew's report, which surveyed 3,001 U.S. adults, found that 7 percent of cell phone owners had tried some form of video chat.
FOLLOW THIS TOPIC